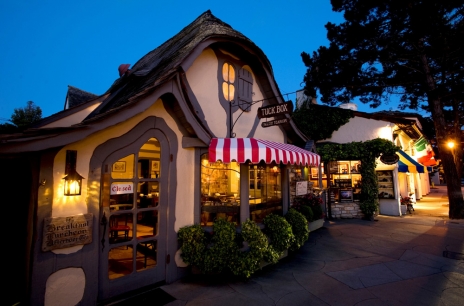 Loading...
Carmel-by-the-Sea
Carmel-by-the-Sea, California is located along the Pacific Coast of Central California, just south of Monterey Bay.  Founded in 1902 and incorporated in 1916, Carmel-by-the-Sea is situated 120 miles south of San Francisco, 70 miles south of San Jose, 350 miles north of Los Angeles, and 26 miles north of Big Sur.  The zip codes for Carmel are 93921, 93922 and 93923, the telephone area code is 831.
Ten minutes from downtown Carmel is the Monterey Peninsula Airport, which has direct flights from San Francisco, Los Angeles Denver, Phoenix and Las Vegas.  Two private jet airports service the area they are the Monterey Jet Center which is located close to Carmel, and the Del Monte Aviation which is located in Monterey.  While the town is easily explored by foot, you'll need a car to get to the rest of the valley and coast.
Carmel, California
Carmel-by-the-Sea is a 1.1 square mile quaint coastal enclave village built amongst a magnificent forest, perched along the Pacific Ocean.  Many would describe Carmel as a magical, whimsical fairytale like place showcasing enchanting cottage style architectural homes, astonishing ocean vistas with white sand beaches, and a vibrant coastal ambiance.  Carmel-by-the Sea was founded in 1906 by Frank Powers and Frank Devendorf and incorporated as a city in 1916.  The one square mile village is bound on the west by Carmel Beach, on the north by Pescadero Canyon, on the east by Monterey St., Forest Ave, and Ladera Dr., and on the south by the Carmel Mission.
The abodes of Carmel are an architectural mixture of storybook English cottages, Swiss Alpine chalets, and uniquely Carmel style building design.  No two homes are alike, a refreshing change from the typical suburbia lifestyles.  The village of Carmel-by-the-Sea resembles a miniature version of Europe.  It is not improbable to see to a bereted Parisian saunter out of one of the captivating, Euro-themed bistros.  Meander a few blocks down Ocean Avenue to Carmel's sandy beach and the view is pure California, a rugged Pacific coastline spangled with rocky outcroppings, ghostly cypress trees and the electric green slopes of the famed Pebble Beach golf course.
A privileged few call Carmel home, with a population of approximately 4081 citizens, 847 dogs, and 2285 households.  A survey done in 2008 reveled that approximately 37% of the residences within the city limits had full time occupancies, the balance of residences are vacation homes.  Carmel-by-the-Sea has all the offerings of a big city without the commotion.  Enjoy world class art galleries, theater, music, dinning, and breathe taking site seeing all within walking distance of each other.  Exclusive global travelers are unlikely to encounter another place that has so much to offer and is so memorable.
The enchanting village is a lively collection of exclusive inns, almost a 100 art galleries, hundreds of boutiques, small bistros and gourmet restaurants.  For locals, part-time residents, and visitors, Carmel is a public resort whose membership fees depart from a range of hotel rates to some of the highest mortgages in the world.  A property situated on Scenic Drive overlooking Carmel Beach that was built at the turn of the last century by M.J. Murphy originally sold for $100 with $5 down, but sold in the new Millennium for $8 million.  Yes there were upgrades along the way but as us Realtors say "Location, Location, Location."
Carmel enjoys a cool Mediterranean climate with an average year round temperature of approximately 65 degrees, seasonal lows of 45 and seasonal highs of 70 degrees.  Carmel by the Sea is encircled by the unincorporated areas of Carmel, Pebble Beach, Carmel Valley and Carmel Highlands.  Uniquely different and boarding on bohemian, Carmel by the Sea has historically pursued a vigorous strategy of planned development to enhance its natural coastal beauty and to retain its character.
New buildings must be built around existing trees and new trees are required on lots that are deemed to have an inadequate number.  Parking meters, the business, cottages, and homes have no street numbers.  Carmel cottages are often given names such as "Tinker Bell Gardens," "Crème Carmel," "Point of View," "This Is It," and the next door neighbor, "This Isn't."  To help preserve the peace and quiet of Carmel, the hours of construction are generally limited to 8 AM to 6 PM, Monday thru Saturday.  Green building practices are encouraged and in some cases required by state mandate.
Originally the early artists who were the builders of many of the homes in the town, named their houses, rather than having numerical addresses (it was believed that these local artists didn't want to be found.  Famous residents of Carmel-by-the-Sea have been writers such as Jack London describes the artists' colony in his novel, The Valley of the Moon; among the noted artists who lived in or frequented the village were; Mary Austin, Armin Hansen, George Sterling, Ambrose Bierce, Robinson Jeffers, Sinclair Lewis, Sydney Yard, Ferdinand Burgdorff, William Frederic Ritschel, William Keith, Percy Gray, Arnold Genthe, and Nora May French.
Carmel today is prime real estate, and the surrounding valley is abuzz with top-notch restaurants, boutiques, wineries and precious shops.  Carmel's unique 20-block downtown is enlivened by 42 charming courtyards and passageways, which encourage exploration of the interior spaces of the shopping district.  Addresses in Carmel-by-the-Sea are considered geographical addresses, such as "Lincoln 4SW of 8th".  The format used for geographical addressing lists the street, cross street, and the number of housed from the intersection.  For example, the case of "Lincoln 4SW of 8th", the address translates to a building on the West side of Lincoln Street four properties south of 8th Ave intersection.  Other examples of addresses; "NE Ocean and Lincoln" (Harrison Memorial Library) or "Monte Verde 4SW of 8th" (Golden Bough Playhouse).
Families that officially live in Carmel-by-the-Sea will have a geographical address and no mail delivery to their home; they will obtain a post office box for personal mail delivery.  Unincorporated areas of Carmel and surrounding areas you will see quaint individual mail boxes on each property (this is how you can distinguish Carmel-by-the-Sea from the Carmel unincorporated areas.)
Many locals when speaking about their intriguing community, will tell you how Carmel found them rather than how they discovered Carmel.  This is the nature of Carmel-by-the-Sea, its aura.  Local Carmelites love living in Carmel for many reasons…a pedestrian friendly environment where you can walk anywhere in town.  Carmel is infamous as being the "Paris" of America when it comes to being dog friendly.  Numerous hotels, restaurants and retail establishments admit guests with dogs.  The village ambiance is a laid back and casual with a dynamic pulse of activity including numerous local events which afford an enjoyable lifestyle in a spectacular Northern California coastal setting.
Carmel is served by the Carmel Unified School District [5].  Schools serving Carmel-by-the-Sea include Carmel High School, Carmel Middle School, Tularcitos Elementary School [6] and Carmel River School.  Carmel-by-the-Sea public schools spend $6,095 per student.  The average school expenditure in the U.S. is $6,058.  There are about 20 students per teacher in Carmel-by-the-Sea.
Purchasing a Home in Carmel-by-the-Sea, California
Living in Carmel-by-the-Sea is like stepping back in time to an era where you know everyone in the community and you feel one with nature.  The typical home built in Carmel is approximately 1400 SF with a one car garage and is situated on a 4000 Sq ft lot.  Larger homes can be found on more spacious or double lots for a premium.  Ocean front property and ocean view homes are highly desired properties that are in high demand and sell at top dollar. When you live in Carmel you reside in close proximity to your neighbors and enjoy the lively influx of international tourists.
The median price of a home sold in Carmel for the first six month of 2010 has been $1,395,278 the cost per sqft $782 and average days on the market has been 140 days.  The highest sale was 4 Million for a 2745 sqft home that sold on San Antonio located in Carmel-by-the-Sea.  The lowest sale was $402,000 for a 1316 sqft home that sold on Canada Lane in Carmel Views/Rancho Rio Vista.  Purchasing a main residence or vacation home in Carmel you will surrender house square footage & lot size for the privilege of being situated right in the heart of one of the most coveted locations in the world.  Carmel is a community where the knowledge and expertise of real estate broker Nicole Truszkowski is vital before embarking upon a purchase of real estate.  Programming a home address into your navigation system doesn't work in Carmel-by-the-Sea.  You will appreciate the guidance and knowledge of Nicole to help you decipher the unique neighborhoods within the village of Carmel-by-the-Sea and how they will accommodate you real estate desires.
Famous builders of Carmel include Hugh Comstock famously known as "Carmel's builder of Dreams".  Architects include Frank Lloyd Wright who built the Walker residence famously known as the "Boat House," Julia Morgan, Charles Greene, M.J Murphy, Gottfried, and Brown & Hale.
These builders and architects used wood from coastal forests, stone from nearby quarries and constructed buildings that incorporated furniture into the walls and closets.  Many of the homes built in the early days of Carmel-by-the-Sea are now historically designated structures that are still evident in Carmel today.  The Arts and Crafts phenomenon coincided with early building in Carmel and launched a development philosophy in the Carmel that remains to this day.  Popular Carmel Ca Architects of today's era   include Michael Bolton, Claudio Ortiz and Al Soroyan.
When searching for real estate in Carmel-by-the-Sea and the unincorporated areas of Carmel, Ca you will find that it is divided into thirteen subdivisions or sub communities.  Each subdivision has its explicit advantages and unique characteristics which create a real estate value specific to that location.  There can be dramatic variance in pricing of homes with similar square footage and lot size based on the subdivision where the home is located.  The map tab above provides a detailed Google map for each sub community; each sub community is identified with a number and name that matches realtor search codes.  Scroll over each area of the map for a brief description and link to listings specific to that sub community.  The map will open up to the street level for detailed viewing.  This interactive map can show you both Carmel and how it relates to the area. Click on the plus and minus symbols in the upper left-hand corner to zoom in and out. Click on the arrow symbols to move the map around.
140           Carmel Woods
141           Northwest
142           Northeast
143           Southwest ("The Golden Rectangle")
144           Southeast
145           Carmel Point
146           Mission
147           Hatton Fields
148           Carmel Hills
149           High Meadows
150           Jack's Peak
151           Carmel Meadows
160          Carmel Views/Rancho Rio Vista