Carmel Meadows
Carmel Meadows neighborhood
Carmel Meadows is located west of Hwy 1, stretching out to the Pacific. It is located south of the Carmel Point neighborhood, and has gorgeous beaches and magnificent homes on the hilltop above.  As you enter Carmel Meadows from the north around Scenic Road, you will reach Carmel River Lagoon. A  wetlands preserve, you will encounter varieties of amazing waterfowl here including great blue herons, geese, pelican and more. It is a treat for the amateur or experienced bird watcher. Continuing your coastline trek south through Carmel Meadows you will reach Carmel River State Beach. Where the Carmel River enters the sea, it is a pristine crescent shaped beach that is popular with locals and less congested than Carmel Beach can be on a sunny Saturday. At the southernmost portion of Carmel River State Beach you will find a beach known as Monastery Beach, named for the white tower of the Carmelite Monastery across the highway. Formerly known as San Jose Creek Beach, it is popular with scuba divers but not for swimming as the surf can be extremely dangerous. At the southern tip of the neighborhood you will find a meadow which sits above the beach offering expansive and elevated views from Point Lobos to Pebble Beach.
Homes in the desirable neighborhood of Carmel Meadows range from $5.399 million for a 3,138 SqFt home on a 16,500 SqFt lot, to $695,000 for a 1,755 SqFt home on a 20,038 SqFt lot. Click here to preview all Carmel homes for sale in the Carmel Meadows neighborhood. For all available Carmel real estate, click here. Homes in Carmel Meadows possess stunning views of Point Lobos, many featuring floor to ceiling windows to showcase the spectacular postcard vistas.
As of June 28th 2014, the most expensive home sold in Carmel Meadows, year to date, sold for $3.999 million and was a 4,025 SqFt home on a 12,500 SqFt lot, while the least expensive sold for $1.175 million and was a 2,000 SqFt home on a 7,900 SqFt lot. In 2013, the most expensive home sold was a 3,518 SqFt home on a 7,200 SqFt lot, which sold for $4.5 million. The least expensive home sold in 2013 was a 1,635 SqFt home on a 8,900 SqFt lot, which sold for $928,000. The most expensive home sold in Carmel Meadows in 2012, sold for $3,850,000 and had 3,510 SqFt of living space on a 14,909 SqFt lot. This architecturally striking home had panoramic views and an unrivaled beachfront location. The least expensive home sold in the neighborhood came in at $700,000 and was a 2,579 SqFt 3 bedroom, 3 bath home on a 7,700 SqFt lot.  It was built in the early 1950's and needed upgrades and improvements to maximize its potential. For a detailed analysis of Carmel real estate sales, check out our monthly Community Market Reports.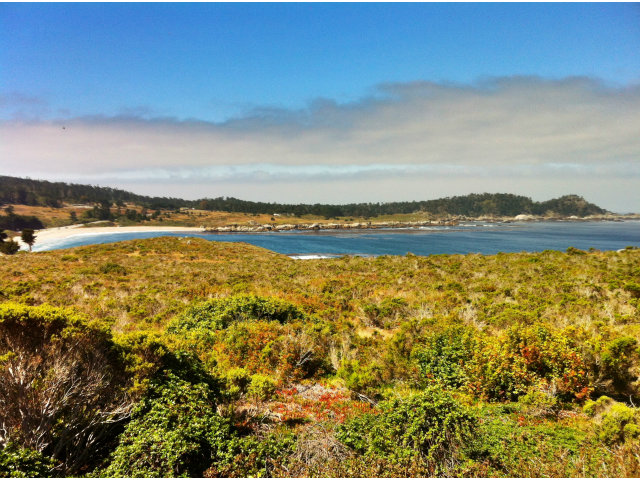 To live in Carmel Meadows is to live in arguably one of the most beautiful places imaginable. After all, it was the northern shore of Point Lobos that inspired Robert Luis Stevenson to write Treasure Island. You will enjoy walking and hiking the trails that wind around the neighborhood and witnessing the ever changing tides and sunsets that create such a dramatic backdrop to your home. You maintain wonderful proximity to Carmel-by-the-Sea and Pebble Beach for golfing, shopping and dining. But with a home in this magnificent neighborhood you may never want to leave!

Photo courtesy of www.mlslistings.com
View All Properties for Sale in this Neighborhood