Carmel Point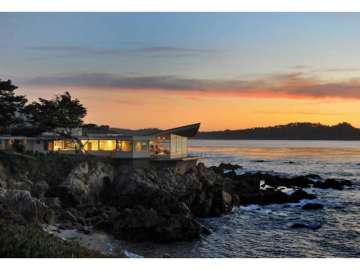 The Neighborhood of Carmel Point lies just south of Carmel-by-the-Sea. With main streets named Scenic Drive, Ocean View Avenue and Inspiration Avenue, needless to say the magnificent panoramic ocean views are commanding in this desirable Carmel neighborhood. Homes here enjoy fantastic proximity to charming Carmel-by-the-Sea for shopping, dining and entertainment, are also part of the excellent Carmel Unified School District. The area is bordered by Santa Lucia Street to the north, Carmelo Street to the south, Scenic Road along the coast to the west and on the eastern side by Rio Road near the historic Mission Carmel.
Homes are within walking distance to Carmel River Beach, Carmel Beach, and the historic Carmel Mission Ranch, with dramatic whitewater views of Carmel Bay and Point Lobos. Homes are generous in terms of square footage and are often on large lots. Whether your tastes lead you to sophisticated modern, classic traditionalism, or Tudor design, Carmel Point real estate will not disappoint with its individualistic styles and charms.
Currently on the market as of January 2015, homes in Carmel Point range in price from $6 million for a 2,206 SqFt home with 3 bedrooms, 3 full and 2 half baths and situated on a 32,744 SqFt lot to $1.075 million for a 2 bedroom, 2 bathroom home with  1,073 SqFt of living space on a 10,500 SqFt lot. Click here to preview all Carmel homes for sale in the Carmel Point neighborhood. For all available Carmel real estate, click here. Homes in this neighborhood are highly sought after.
In January of 2015, the most expensive home that sold in the last 6 months was a 2,629 SqFt home on a 4,000 Sqft lot that sold for $4,525,000. The least expensive home sold for $1,425,000 with 2,835 Sqft of living space on a 6,100 Sqft lot.
As of June 28th 2014, the most expensive home sold in Carmel Point in 2014, sold for $5 million and was a 2,535 SqFt home on 7,100 SqFt of land, while the least expensive sold for $940,000 and was a 1,616 SqFt home on 7,000 SqFt of land.
The most expensive home sold in the area in 2013 was a 2,644 SqFt home on 5,700 SqFt of land, which sold for $6.8 million. The least expensive home sold in 2013 in the area was a 743 SqFt home on 5,000 SqFt of land, which sold for $1.295 million.
The most expensive home sold in Carmel Point in 2012 sold for $5,175,000 and was a 3,186 SqFt, 4 bedroom, 3 bath home on a 7,971 SqFt lot. This lovely Tudor estate had spectacular views of Point Lobos and Carmel Bay. The least expensive home sold in 2012 sold for $420,334 and was a 632 SqFt 1 bedroom, 1 bath Craftsman cottage on a 6,000 SqFt lot. For a detailed analysis of Carmel real estate sales, check out our monthly Community Market Reports.
Imagine the sense of freedom and exhilaration you will feel when you can simply leave you doorstep, perhaps bringing your dog along for the adventure, and walk to some of the most beautiful spots in Carmel. Carmel Bay sparkles brilliantly in the morning sun while in the distance the rugged coastline of Point Lobos appears in stoic splendor. How can one not feel in touch with nature with the fresh sea breezes and sand underfoot. As an owner of a Point Carmel home you are also in walking distance to world class dining and shopping in neighboring Carmel-by-the-Sea. You can also take advantage of all of the events in the Carmel Area-from the sensory delights of the Carmel Food and Wine Festival to the much anticipated Bach Festival each July your calendar will be filled to the brim. A home in Carmel Point gives you the ultimate in convenience, access, and unrivaled beauty from the peacefully calm perch of your home by the sea.
Photo courtesy of www.mlslistings.com