Carmel Valley Village/Los Tulares/Sleepy Hollow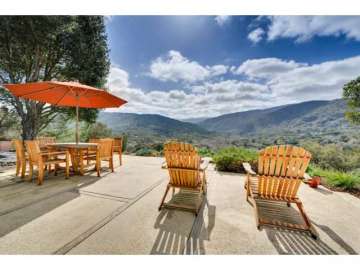 The neighborhood of Carmel Valley Village, Los Tulares, Sleepy Hollow is located in the heart of Carmel Valley. This region is highly sought after as it allows homeowners all of the charms, tranquility and beautiful natural surroundings you find living in the country while maintaining an incredible location near the Village and within close proximity to everyday conveniences. It is just secluded enough to feel as though you are hundreds of miles away from the hustle and bustle of modern life, yet a short drive away from all of the world class shopping, dining, golf and recreation you desire. Homes are situated on large lots which allows for bountiful gardens, small vineyards, guest quarters, swimming pools and equestrian facilities.  Sleepy Hollow is located at the southern end of the neighborhood boundaries, Toyon Way in the Los Tulares development to the north, Garland Park borders to the west and Via La Gitana to the eastern boundary. The neighborhood encompasses Carmel Valley Village which is the heart of the Valley's dining and wine tasting establishments.
Sleepy Hollow is home to incredible equestrian estates of high quality craftsmanship and on large parcels of lush land. Here you will find exquisite homes in a quintessential Carmel Valley setting of pastoral elegance.
Los Tulares homes are located off of Carmel Valley Road at the entrance to Via Los Tulares Road. As you wind up the road to higher elevations you will find stunning valley views. It is a quiet enclave of homes with sunny southern exposure and truly remarkable views.
Carmel Valley Village homes are those in closest proximity to the Village which has become a destination spot for those out enjoying the sunshine to enjoy a leisurely lunch, shop antiques or wine taste a variety of local winery offerings. Tasting rooms have popped up along Carmel Valley Road providing locals and tourists alike with a chance to sip a sampling of gorgeous wines including the Point Noirs the Valley is famous for producing. There are a few notable restaurants including the Corkscrew Café which is owned by Walter Georis of Casanova and La Bicyclette, two of Carmel-by-the-Sea's best restaurants. Here you can sit outside on a patio reminiscent of dining in the Mediterranean with olive trees, trickling water and beautifully prepared dishes. Café Rustica is another perfect spot for lunch or dinner offering casual but elegant dining in the cozy stone interior or sun drenched patio and heated veranda. The freshest ingredients and friendly waiters make for a magical meal…don't forget to share the orange croissant bread pudding for dessert, a must.
As of February 2015, homes in the neighborhood of Carmel Valley Village/Los Tulares/Sleepy Hollow range in price from $2.195 million for a 6 bedroom 7 bathroom, Spanish Hacienda home with 8,000 SqFt of living space on 10 acres of land, to $369,000 for a 1 bedroom, 1 bathroom, 1931 log cabin with 796 SqFt of living space on a 14,146 SqFt lot. Click here to view all Carmel Valley homes for sale in the Carmel Valley Village, Los Tulares, Sleepy Hollow neighborhoods. For all available Carmel Valley real estate, click here.
In 2014, 31 homes were sold in the Carmel Valley Village/Los Tulares/Sleepy Hollow neighborhood. The most expensive was Merv Griffin's former Ranch house on 57 acres with 9,378 SqFt of living space, sold for $4,500,000. The least expensive sold for $350,000 and featured 962 SqFt of living space on 41,960 SqFt of land.
In 2013 the most expensive home sold in the neighborhood sold for $1.695 million and was a 4,000 SqFt home on a 109,335 SqFt lot, while the least expensive sold for $324,000 and was a868 SqFt home on 6,900 SqFt of land.
In 2012 the most expensive home sold in the neighborhood sold for over asking at $3 million. This French Normandy estate had 8,200 SqFt of living space on a 5 acre parcel with a spectacular pool, home theatre and the finest of finishes. The least expensive home sold was a bank owned cottage with 1 bedroom and 1 bath and just 419 SqFt of living space. For a detailed analysis of Carmel Valley real estate sales, check out our monthly Community Market Reports.
Living near Carmel Valley Village is highly sought after and desirable. You will have immediate access to the charms of the Village and the essence of the Carmel Valley. And with an average of 300 days of sunshine a year you will experience heavenly weather and take advantage of all the outdoors have to offer. Though the beauty of Carmel Valley does not diminish as you travel down the Valley Road into the more remote areas, it can be just that-remote and poses its own set of challenges. To be close to the Village is a central location where you are never far away from modern day conveniences and only a short drive away to the coast where there Carmel-by-the-Sea, Pebble Beach and Monterey offer superb entertainment, recreation and conveniences. If you ever tire of the sunshine, though few do, a drive to the coast in the summertime will cool you with its natural "air conditioning" of marine fog. Whether you choose an estate in Sleepy Hollow where you can rise early on an autumn day to care for the horses and prepare for a brisk trail ride or a home in Los Tulares where you can relax on you deck, sip a glass of wine and soak in the views, or a home in the Village where you can walk to a casual dinner with friends and sit alfresco and enjoy a culinary delight, your home will be a treasured retreat in its ideal Carmel Valley locale.
Photo courtesy of MLS