Garland Ranch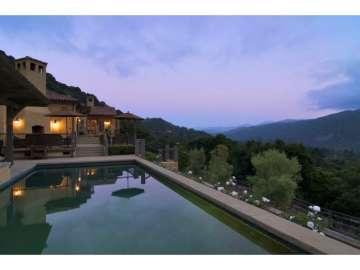 The neighborhood of Garland Ranch in Carmel Valley features large homes with acreage perfect for hobby vineyards, swimming pools and gracious outdoor living with spectacular Garland Park and mountain views.  Homes in the exclusive neighborhood may have horse facilities and often have guest homes on the property. From the intersection of Hwy 1 and scenic Carmel Valley Road you are just 10 miles inland to this peaceful retreat.The neighborhood is bordered by Laureles Grade to the east, Garland Park open space to the west and south. Carmel Valley Road and the Carmel River run through the middle of the neighborhood dividing the upper neighborhood of estates from the Garland Ranch Regional Park. You will find these beautiful estates perched above the luxurious Bernardus Lodge with sweeping views of Garland Park.
Garland Park was the first property to be acquired by the Monterey Peninsula Regional Park District. The park's flat flood plains give rise to elevations of 2,000 feet into the Santa Lucia Mountains, and with it a vast variety of landscapes and plant life. Begin at the Carmel River and hike along the trails to discover canyons filled with brightly colored maples, and dense oak canopies that open up to sweeping vistas of the valley. Stop by the Visitor Center for a guide and species list to help you identify the birds, plants and animals you may encounter along the way. Providing you with a glimpse of Carmel Valley history, there are historic buildings throughout the park including an original old dairy barn. Make sure your journey includes Garzas Creek where you will find a canyon of redwood trees, a waterfall and Rumsien Indian habitation sites. The park, like so much of Carmel is very dog friendly so be sure to bring your four-legged friend, he will be sure to appreciate the many off-leash areas as well.
Proximity to the 4,462 acre Garland Park means miles of trails for hiking and riding in addition to horseback riding, bird watching and photography. The majority of the park is off limits to bicycles but there is a small section where it is permitted. Though the neighborhood offers privacy and a serene country setting, you are still conveniently close to Carmel Valley Village and Mid-Valley Shopping center.
There are currently no homes for sale in this neighborhood as of February 2015, but typically homes in Garland Ranch range in price from $2.99 million for a 4,600 SqFt, 3 bedroom 4 bath home situated on 5 acres of land with mountain views, to $1.395 million for a 4 bedroom 4 bath home with 3,196 SqFt of living space. Click here to preview all Carmel Valley homes for sale in the Garland Park neighborhood. For all available Carmel Valley real estate, click here.
Only one home sold in 2014 in this neighborhood, it was an equestrian property on 2.4 acres with two riding arenas, stables, barn and a main 3 bedroom, 2 bathroom home, that sold for $1,300,000.
In 2013, the most expensive home sold in the neighborhood sold for $2.02 million and was a 5,150 SqFt home located on 56,192 SqFt of living space, while the least expensive home sold for $820,000 and was a 1,735 SqFt home on a 56,192 SqFt lot.
In 2012, the most expensive home sold in the Garland Park neighborhood sold for $2.8 million. This architectural 4 bedroom 7 bath home located on La Rancheria had 4,200 SqFt of living space and was situated on an 87,120 SqFt lot. The least expensive home sold in the neighborhood sold for $778,000. With 3 bedrooms and 3 baths this 1,580 SqFt home had a Zen Eastern-influenced design and was a true horse property with a 4 stall barn and tack room and two turnouts. It was located on a very large 129,774 SqFt lot. For a detailed analysis of Carmel Valley real estate sales, check out our monthly Community Market Reports.
To own a home in Garland Park is to live a sophisticated country lifestyle with excellent proximity to Carmel-by-the-Sea, Pebble Beach and the best of the Monterey Peninsula. Surrounded by the beauty and tranquility of your home in the Carmel Valley you will enjoy all the outdoor activities and exploring available in your own backyard from wine tasting to dining in Carmel Valley Village where you will find the charming Café Rustica with wood fired pizzas, fresh local produce, tantalizing deserts and a wonderful wine list. When you want to expand your entertainment options Carmel-by-the-Sea is a short 10 minute drive away where you can indulge in world class shopping, dining and art galleries. Or perhaps head to Pebble Beach for a game of golf on one of its 7 famous golf courses including Sypglass, Spanish Bay, Pebble Beach Golf links and Poppy Hills. When the fog rolls in you can head back home to the sunshine inland where you can enjoy the views and outdoor living Valley residents love. With Garland Park in your backyard the opportunities for exercise, exploration and relaxation are endless. What a great neighborhood to call home!