Mid Valley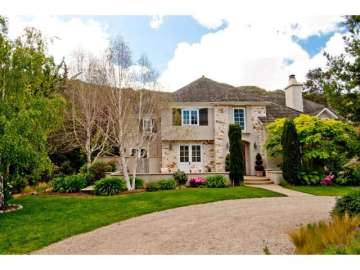 The Mid Valley neighborhood is situated along Carmel Valley Road between Quail Lodge and Carmel Valley Ranch, bordered by Carmel Valley Road to the north, Robinson Canyon Road to the east, Schulte Road to the west and open land to the south. The Carmel River runs through this neighborhood and it is home to Carmel Valley High School, Mid Valley Shopping Center, the Carmel Valley Medical Clinic as well as numerous houses of worship including the Korean Buddhist Temple Sambosa, St. Philip's Lutheran Church, All Saints Episcopal Church and Sanctuary Bible Church. It is an active center of town with tree lined streets where Carmel Valley residents go to stock up on essentials at Mid Valley which has an animal hospital, cafes including the Carmel Valley Roasting Company, drycleaners, an optometrist, salon, fitness center and Safeway. You will also find Jefferies Grill which is filled with early morning patrons savoring homemade muffins, gourmet omelets and coffee in a friendly relaxed diner atmosphere. On sunny days the outdoor patio is a perfect place for lunch. Owner and Chef Jeffrey Thompson prepares his "American Eclectic" dishes with the freshest of ingredients and is a wonderful resource for your catering needs, you can even bring your own plates in and take the credit for a sumptuous meal with his "Secret Chef" service which allows you to bring lasagna, eggplant parmesan, chicken pastilla, homemade pies and more home on your own dishes. Simply heat and serve to your impressed guests.
Homes in the Mid Valley neighborhood vary from large estates on good sized lots with swimming pools, park-like outdoor gardens and sprawling floor plans to smaller cottage style abodes. Many homes along the Carmel River have private Carmel River beaches and many are equestrian estates with room for horses, barns and turnouts. The coveted lane of Prado Del Sol showcases some of the neighborhoods most beautiful homes. Just 10 minutes to Carmel, Mid Valley homes enjoy a wonderfully convenient sun-drenched location with quick Hwy 1 access to Carmel-by-the-Sea, Pebble Beach and Monterey. There are a number of gated communities as well for added security and privacy. There are also condos located along Center Street for those who desire a smaller footprint and the convenience of condo living.
2018
Currently on the market as of July 31st, there is only 1 home listed for sale in this neighborhood. A turn-key, ranch-style, 3 bedroom, 2 bathroom home with 1,555 SqFt of living space on 1+ acre and listed for 999K. Click here to preview all Carmel Valley homes for sale in the Mid Valley neighborhood. For all available Carmel Valley real estate, click here.
Historical Market Information
2017
In 2017, 4 homes sold in this neighborhood. The most expensive home to sell was a 4 bedroom, 3 bathroom home with 2,937 SqFt of living space on a 2.5 acre lot located on a cul-de-sac and sold for 1.575 million. The least expensive home that sold, sold for 825K and was a 3 bedroom, 2 bathroom, single-level home with 2,500 SqFt of living space on a 1+acre.
2016
4 homes sold in this neighborhood in 2016. The most expensive home that sold, sold for 2.1 million for a 5 bedroom, 4.5 bathroom, Cape-Cod style home with 4,246 SqFt of living space on 4.33 acres. the least expensive home sold for 340K for a 1 bedroom, 1 bathroom, first floor condominium with 735 SqFt of living space.
2015
No homes sold in this neighborhood in 2015.
2014
10 homes sold in this neighborhood in 2014. The most expensive was a 5,246 SqFt home on 4+ acres of land, which sold for 2.99 million. The least expensive sold for 275K and was a 735 SqFt townhouse.
2013
In 2013, the most expensive home sold for 421K, and was a 1,618 SqFt home located on 43,560 SqFt of land. The least expensive home sold in 2013 sold for 245K and was a 735 SqFt townhouse.
2012
In 2012, the most expensive home sold in Mid Valley sold for 2.5 million. This 4,425 SqFt estate had 5 bedroom and 5+ bathrooms and was situated on nearly 9 acres. The least expensive home sold for 175K for a 1 bedroom, 1 bathroom condominium with private deck and 689 SqFt of living space.
For a detailed analysis of Carmel Valley real estate sales, check out our Community Market Reports.
To live in Mid Valley is to own a home in the desirable center of beautiful Carmel Valley where you can enjoy all of the natural splendor of the area while maintaining quick access to shopping, dining, recreation and the coast. With an average of 300 days of sunshine each year, the Valley has unbelievable weather that will maximize your outdoor activities. Take a hike in nearby Garland Park, cycle the Valley Road or mountain bike on the amazing Santa Lucia trails. Horse enthusiasts will have opportunities to board their horses on their properties or one of the many equestrian facilities. Golfers will have an unparalleled list of choices for playing the greens, from the Carmel Valley courses of Quail, Rancho Canada and Carmel Valley Ranch to the world renowned golf courses in nearby Pebble Beach. Your ideal Valley location makes a trip to the coast a 10 minute journey where you can explore Carmel Beach, Point Lobos, and the less explored beaches along the pristine sandy coast. You can easily venture into Monterey to experience Cannery Row and the famous Monterey Bay Aquarium, or visit Pacific Grove for its hometown charms, shopping and restaurants. When the fog rolls in, you can head back to your sunny Carmel Valley home which will give you a sense of relaxation and sanctuary. You can truly have the best of both worlds, access to all the amenities of the Monterey Peninsula and a country home where the pace is slower and there is time to appreciate a connectedness with nature, and peace of mind.