Northwest Carmel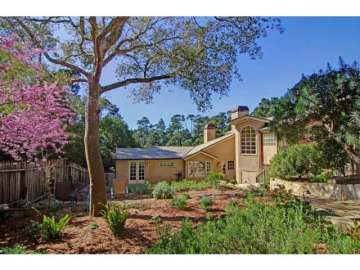 The neighborhood of Northwest Carmel is home to beautiful residences that enjoy the prestige and storybook charms of Carmel-by-the-Sea. The neighborhood is serene and peaceful with oak lined streets, lush landscaping and is situated within comfortable walking distance from the hustle and bustle of the village and Ocean Avenue. Many homes boast ocean views and those in the Sand and Sea enclave have sand dune locations just steps to the beach.
2017
As of May 16th there are currently 16 homes on the market. Most expensive home on the market is a 6 bedroom, 5 full and 3 half bathroom property with 5,145 SqFt on a 11,200 SqFt lot just steps from Carmel Beach and is listed for 8.95 million. Least expensive home on the market is a 1 bedroom, 1 bath condominium with 1,020 SqFt with Ocean views from the deck and is listed for 1.149 million. Click here to preview all Carmel homes for sale in the Northwest neighborhood. For all available Carmel real estate, click here.
Historical Market Information
2016
40 homes sold in this neighborhood in 2016. The most expensive home to sell was a 4 bedroom, 3 full and 1 half bath, newly constructed property that sat directly on Carmel Beach with panoramic Ocean views and selling for 10.7 million. The least expensive home to sell, was a 1 bedroom, 1 bathroom condominium with 822 Sqft of living space and selling for 739,975
2015
32 homes sold in this neighborhood in 2015. The most expensive home to sell, sold for 27 million and was located on the largest beachfront parcel in Carmel-by-the-Sea. This iconic estate featured 4 bedrooms, 5 full and 2 half bathrooms with 12,688 SqFt of living space on 2.37 acres. The least expensive property to sell, sold for 658K and was a 2 bedroom, 2 full and 1 bathroom fixer with 1,144 SqFt of living space on a 4,000 SqFt lot.
2014
In 2014, 32 homes sold in this neighborhood. The most expensive home to sell was an Oceanfront property located on the infamous Carmel Beach. This property sold for 6.325 million and featured 3 bedrooms, 2 full and 1 half bathroom, 2588 SqFt of living space on a 9,778 SqFt lot. The least expensive property to sell was a 1 bedroom, 1 bathroom remodeled condominium with 850 SqFt and selling for 552,500.
2013
In 2013, 22 homes sold in this neighborhood. The most expensive home sold was a 1,750 SqFt home with 3 bedrooms and 3 bathrooms situated on 3,700 SqFt lot, which sold for 3.25 million. The least expensive home sold in 2013 was a 542 SqFt top-floor suite with a view of the Monterey Bay, which sold for 475K
2012
31 homes sold in this neighborhood in 2012. The most expensive home that sold, sold for 3.485 million. This property was situated on a 7,500 SqFt lot with a large backyard and spacious living space of 3,279 SqFt. The least expensive home that sold, sold for $335,000 and was a townhouse in the Del Mission Court complex. This one bedroom unit had 730 SqFt of living space.
For a detailed analysis of Carmel real estate sales, check out our monthly Community Market Reports.
Notable residents of Northwest Carmel include novelist Mary Austin, who moved to Carmel in 1906. Mary Austin's famous cottage called the "Rose Cottage" still stands today. Austin is best known for her tribute to the deserts of the American Southwest in The Land of Little Rain. Her play, Fire, which Mary also directed, had its world premiere at the Forest Theater in 1913. Mary Austin is often credited as suggesting the idea for the creation of the Forest Theater outdoor stage.
Families with children will enjoy the close proximity of the renowned private Stevenson High School which is located in Northwest Carmel on 24800 Dolores Street. An additional campus is located in Pebble Beach at 3152 Forest Lake Rd. There are also two parks in the neighborhood kids will enjoy as well the young at heart. Forest Hill Park is located off of Camino Del Monte and provides a children's play area, shuffle board court, horseshoe pits and tennis courts. The second park, First Murphy Park showcased the historical landmark First Murphy House which is now the location of the Carmel Heritage Society. Built in 1902 by Michael J. Murphy when he was 17 years old, it was the first of more than 300 houses and many commercial buildings he would build in Carmel.
The main Library for Carmel, "Harrison Memorial Library" is located in the northwest section of town at Ocean Avenue and Lincoln Street. The Harrison Memorial Library was designed by Bernard Maybeck, and provides an abundance of books and resources as well as a welcoming ambiance enjoyed by many local Carmelites complete with a cozy fireplace & big comfortable chairs.
Another place of interest in the Northwest neighborhood is the Carmel Art Association Gallery founded in 1927 and located on Dolores Street between 5th & 6th Avenue. This is Carmel's oldest gallery which features the finest work for sale by local artists on the Monterey Peninsula. Many of the Association's earliest members were influential early California artists. The gallery also creates a sense of community involvement with lectures, films, concerts and special fund-raising events.
To live in Northwest Carmel is to live in one of the exceptional neighborhoods of Carmel-by-the-Sea. You will have excellent proximity to fine dining, shopping, galleries and entertainment within walking distance of your home and are just a short distance from Pebble Beach and Monterey. Outdoor enthusiasts will have no shortage of options, from cycling or jogging along the coast to diving, to surfing. As Carmel is a dog friendly town you will be able to take your four legged friend for a stroll down Ocean Avenue perhaps ending up at Carmel Beach for a frolicking in the surf. Golfers will appreciate the world renowned golf to be played on the peninsula specifically the top notch courses in Pebble Beach. Whatever you choose to explore, your home in Northwest Carmel is the perfect home base to enjoy the Carmel lifestyle.
Photo courtesy of www.mlslistings.com