Pebble Beach-Lodge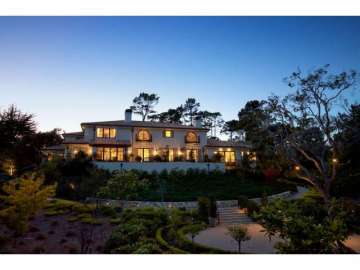 The coveted neighborhood of Lodge, the namesake of the luxurious Pebble Beach Lodge, contains within its boundaries some of the most exclusive, stunning estates in the world. As 17 Mile Drive curves and winds through windswept Cypress trees and panoramic vistas of turquoise water, architectural gates of stone and artisan craftsmanship hint at the beauty of the homes secluded in their private sanctuaries. At the northern point of the area, you will find Cypress Point, the private and revered golf course that escorts golfers through the Del Monte Forest to the rocky coast as they play 18 holes. As you continue to the south you will reach Peter Hay, a fun yet deceivingly challenging 9-hole golf course where you often see youngsters learning the art of golf with dad and mom. Finally you will reach the Pebble Beach Links, a destination on every golfer's wish list, with a reputation that needs little introduction. At the southernmost tip the neighborhood ends at the gates to Carmel-by-the-Sea homes, where you will enter a fairytale town of cobblestone streets and charming cottages with the sophistication of a shopping, dining and recreational haven.
2017
The homes in this prime Pebble Beach real estate locale are truly one of a kind, and their exclusivity and breathtaking ocean views make this a highly sought after location. Currently there are 16 homes actively on the market in this neighborhood and they range in price from 41.888 million for a private, Oceanfront estate on Pescadero Point to 3.199 million for a manor style home complete with a pool. Click here to preview all Pebble Beach homes for sale in the Lodge neighborhood. For all available Pebble Beach real estate, click here.
Historical Market Information
2016
In 2016, 11 homes sold in this neighborhood. The most expensive home that sold, sold for 18.5 million and was a 7 bedroom, 7.5 bathroom, 8,300 SqFt estate on 2.42 acres and was located on the 12th green of the Pebble Beach Golf Course Links and featured Ocean Views. The least expensive home to sell, sold for 3.25 million for a 3 bedroom, 2.5 bathroom, 3,335 SqFt estate on .889 acres with panoramic views.
2015
13 homes sold in this neighborhood in 2015. The most expensive home to sell sold for 11 million and was a 4 bedrooms, 5 full and 2 half bathroom, 4,086 SqFt estate on 1.5 acres and was an Oceanfront property on the famous 17 mile drive. The least expensive home sold for 1,992,500 for a 4 bedroom, 3 bathroom, 2,544 SqFt estate on 1.5 acres.
2014
In 2014 there were 10 homes that sold in this neighborhood. The most expensive home sold was a 6,603 SqFt estate on 2 acres situated on the famed 17 mile drive and sold for 31.25 million. The least expensive home was a townhouse, conveniently located at the Lodge with 3,316 SqFt of living space on a 6,803 SqFt lot and sold for 2.1 million
2013
There were 12 homes sold in the neighborhood in 2013. The most expensive home sold was a 7,200 SqFt Mediterranean Villa on a 69,696 SqFt lot, which sold for 12.5 million. The least expensive was a 3,380 SqFt home on a 6,417 SqFt lot, which sold for 1.925 million.
2012
In 2012, 10 homes sold in this neighborhood. The most expensive home sold for 10,583,333 and was 9,630 SqFt and was situated on a 40,902 SqFt lot with stunning ocean views. The least expensive home sold in the neighborhood sold for 1.827 million and was 4,100 SqFt on a 72,196 SqFt lot. For a detailed analysis of Pebble Beach real estate sales check out our monthly Community Market Reports.
To live in this emerald jewel coastline neighborhood, one would have the very best Pebble Beach has to offer at your doorstep. Walk to the Pebble Beach Concours d'Elegance to view history come to life with vintage and classic automobiles, attend the annual AT&T Pro Am golfing events and many more Pebble Beach Events which draw visitors from around the world to this uniquely beautiful community. After a game of golf perhaps enjoy a short stroll to the Lodge where you are pampered by a massage and afterward enjoy a casual meal at The Bench restaurant, sitting outside by a warm fire as the ocean air chills with the setting sun. After a day of activity, invigorated by salt and sea, you return to the glow of your home by the ocean, truly a dream come true.
Photo courtesy of www.mlslistings.com