Southeast Carmel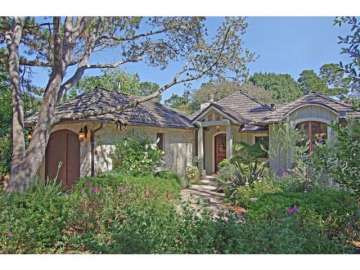 To the east of the Golden Rectangle in Carmel-by-the-Sea lies the vibrant neighborhood of Southeast Carmel. The boundaries of Southeast Carmel are Ocean Avenue to the North, Dolores Street to the West, Santa Lucia to the South and Mission Trail Park to the East. Homes in this high profile area enjoy walking distance proximity to the best Carmel-by-the-Sea has to offer. Beautifully appointed homes many with open beamed ceilings, stone fireplaces and storybook gardens, nestle on oak lined streets in this quintessential Carmel by the Sea neighborhood.
As of January 2015, homes in Southeast Carmel range from $2,495,000 for a 4 bedroom, 4.5 bathroom, 5,243 SqFt home situated on a 8,276 SqFt lot to $949,000 for a 3 bedroom, 2 bathroom, 1,144 SqFt home on a  2,500 SqFt lot. Click here to preview all homes for sale in Southeast Carmel.
In January of 2015 the most expensive home that was sold in this neighborhood in the last 6 months was a 2,000 SqFt home on a 3,000 SqFt lot that sold for $2,590,000. The least expensive home sold for $1,250,000 with 1,540 SqFt of living space on a 4,000 SqFt lot.
As of July 10th 2014, the most expensive home sold in Southeast Carmel, year-to-date, sold for $2.8 million and was a 2,500 SqFt home with ocean views, on a 7,800 SqFt lot. The least expensive home sold in 2014, year-to-date, sold for $800,000 and was a 700 SqFt cottage situated on 4,000 SqFt of land.
In 2013, the most expensive home sold in the neighborhood was a 2,800 SqFt home situated on a 12,600 SqFt private estate, which sold for $4.85 million. The least expensive home sold in 2013 was a cottage on 4,000 SqFt of land which sold for $525,000.
The most expensive home sold in Southeast Carmel in 2012 was $2,150,000 and was a 3,018 SqFt, 4 bedroom 2 bath home on a double lot of 8,000 SqFt. The least expensive home sold in Southeast Carmel in 2012 sold for $518,000 and was a 1,680 SqFt, 3 bedroom 2 bath home situated on a 4,872 SqFt lot. For a detailed analysis of Carmel real estate, check out our monthly Community Market Reports.
To live in Southeast Carmel is to live with the finest in dining, entertainment and shopping literally in your backyard. Walk down popular Ocean Avenue and delight your senses with incredible art galleries, fun fashion, tantalizing restaurants and cafes and unique home furnishings. If you are a theatre devotee, Southeast Carmel will provide you with unparalleled creative experiences. Between Mission and San Carlos Street you will find the Sunset Center, the cultural hub of Carmel and home to the Monterey Symphony, Chamber Music Monterey Bay and the Carmel Music Society. Patrons flock year round to experience an impressive and diverse calendar of events, the most beloved including the Carmel Art & Film Festival and the Carmel Bach Festival. The historic Forest Theater,   located at the intersection of Mt. View and Santa Rita, also offers a series of live performances and is home to the "Bohemians of Carmel". An outdoor amphitheater dating back to 1910 it is rich in history and a truly majestic setting to watch art come to life. But not to be forgotten, a short stroll from your Southeast Carmel home, you will find Carmel Beach, a treasure of sugary sand and turquoise water that invites you to play or simply to close your eyes and remember that this is why you call this home.
Photo courtesy of www.mlslistings.com