From the desk of Nicole Truszkowski here is your 3rd Quarter review of the luxury real estate market for Carmel and Pebble Beach.
Where has 2017 gone? Time flies when you're constantly running around town, escorting potential home buyers in and out of property. Less than 50 days till the end of the year, and the holiday season is just around the corner. Thus far, 2017 has proven to be a steady real estate market, with a leveling trend of luxury sales. Below is a detailed summary exclusively for Pebble Beach and Carmel.
Pebble Beach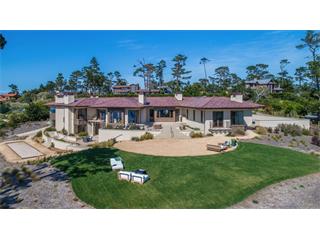 Pebble Beach enjoyed a slight uptick in sales year-to-date, with 88 sales in the $1M+ range, and 36 of those were above $2 million. Average days on market were 100, and the average sales price was $2,319,670. Interesting that there was not much of a change from the 2016 statistics, with 75 sales above $1M (32 of those sold for more than $2M.) Average days on the market in 2016 were 111, and average sales price last year was $2,736,569. In Pebble Beach, the number of homes sold was up a bit, but the average price dropped 15%.
The Big Kahuna this year in Pebble was 1231 Padre Lane, which fetched $12,500,000. Originally listed for almost $18 million, this new 10,000 s/f ocean-view beauty finally captured the attention of a buyer, 618 days after its debut. Not unusual, sometimes these massive estates do take a little longer to sell.
Currently there are 72 luxury homes on the market. The most expensive abode currently available is "Peerless in Pebble," at 3290 17 Mile Drive. Originally listed for $49.8 million, now 287 days later it is offered at $41.8 million. This unique property is privately situated on Pescadero Point, and is just a short stroll to the Lodge. For more information on this ultra-luxury property click on the link.
Carmel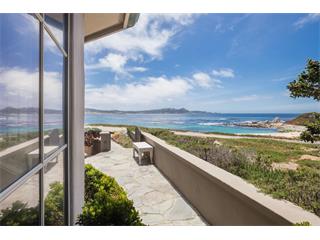 Carmel once again leads the race with 52% more luxury sales than its Pebble Beach neighbor. So far this year, Carmel had sales of 184 luxury homes (over $1 million), 66 of those were north of $2M. Average days on market: 102, with the average sales price at $2,114,832. Looking back at 2016 statistics, we saw 175 sales above $1M (64 were $2M+), 79 average days on market, and $2,157,886 average price. Steady Eddie appears to be the 2017 luxury real estate trend in Carmel.
The most impressive sale in the first 3 quarters was 2446 17th Avenue, which sold for $9 million — originally listed for $12.9 million — and took 152 days to snag a buyer. It is important to note that this home was seriously dated, and needed a major overhaul to impress a luxury connoisseur.
Currently there are 143 homes above $1M listed in Carmel. The most impressive being the "Lord of the Flies" home, at 26262 Isabella Avenue. A unique estate, privately situated on 8 lots, with 32,000 s/f of land, and NO ocean views. Originally listed for $15 million, it is now being offered 269 days later, for $13.75 million. Click here to preview.
Quick Recap
In summary, it is apparent that we are seeing a leveling off of the ultra-luxury sales ($5M+) here on the Monterey Peninsula. Turnover is brisk and competitive in the $1M-$1.5M price band, often with multiple offers, and final sales price has often been substantially over the list price. My predictions for 2018: We will continue to see high demand in the entry luxury price bands below $1.5 million. Ultra-luxury sales will continue to drag, and we will continue to see longer days on the market. In 2018, sellers will need to be responsive to all serious offers made on ultra-luxury homes, or they may miss the boat!
Continue to check in weekly for the latest up-to-date luxury real estate information, or for helpful tips from your favorite Real Estate Guru, moi! Any questions or concerns regarding buying or selling luxury properties, please be sure to contact me, Nicole Truszkowski at 831-238-7449!