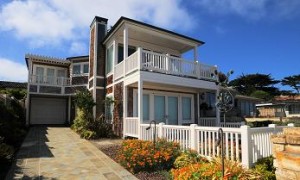 A yard can be a source of joy in homeownership; this is where you are able to nurture your own piece of nature. It says a lot about a home, as well, and by extension you. There are some simple ways you can make the yard of Carmel CA homes the talk of the neighborhood. Although not all of us are talented at growing plants, these helpful tips will help you grow the garden of your dreams.
When watering the plants, check the soil and see if you can penetrate the roots easily to know if the soil has enough water. Different species of plants and shrubs need different amounts of water to survive. Most flowering plants need watering daily especially during the hot summer days. Newly planted shrubs and flowers require a bit more care and water than older plants.
Try to water during the early morning hours, to be more efficient. Adjust the sprinklers in Carmel CA homes accordingly so that they run only out of the heat of day. Install a rain sensor so that you will not activate the sprinkler while it is raining.
Controlling weed is another important factor. These broadleaf weeds are best controlled by using selective postemergence herbicides, while grassweeds are best combated using preemergence herbicides applied before germination. When you should apply these herbicides depends on what type of weed you want to eliminate.
Cutting the lawn of your Carmel CA homes to short heights can result in shallow roots. Shallow roots mean grass that dries out easier. Too short grass also gives weeds leeway to emerge. Bermuda grasses are best kept between 0.75 to 1.5 inches.