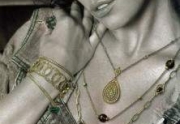 Many visitors, new comers to town, and locals frequently ask my opinion about the best places to shop, dine, or visit while spending time on the Monterey Peninsula. This blog is the first post of many to follow, promoting our special local people and places found along the Monterey Peninsula. Today I want to share a special place to shop "Augustina's Leathers Boutique" situated in the heart of Carmel-by-the-Sea.
Augustina's Leathers has been a shopping icon in Carmel-by-the-Sea for 26 years. What makes Augustina's such as fantastic place to shop is the amazing inventory of trendy items they carry from dresses, sportswear, jewelry, buckles, boots, leathers and furs. Need a special gift or something special to spoil yourself you will always find it at Augustina's. The great selection of trendy items will first draw you into the boutique, but it is the warm and friendly staff; this welcoming ambiance is fostered by the vibrancy of the owner of the store, Tracy Delaney-Odle.
Tracy and the Augustina Angels (support staff) will always make you feel special and help you find exactly what you are looking for. Augustina's Angels know their customers inside and out…they always call you when that perfect item comes in for yourself, or as a gift for someone special. It's no surprise that people fly in from all over the world, year after year, to shop at Augustina's.
Augustina's owner Tracy is a kind and generous spirit. The Augustina's boutique frequently supports charities in our community, with many of the stores special events giving percentages of sales back to local charities. The staff is a wealth of knowledge about the town, people, and places to see or visit. They will help you find what you need, even if it has nothing to do with the store. The Augustina's team members are true ambassadors for Carmel, the town so many of us locals feel privileged to live in. A shopping day in Carmel-by-the-Sea is not complete without a visit to Augustina's. The next special shopping event at Augustina's is noted below…I hope to see you there…
Augustina's Spring Event Sale
Thursday March 31- Monday April 4, 2011
Enjoy a Glass of Champagne while you shop, and Complimentary GIFT with Every Purchase!
Enter your business card for the drawing…
The winner can choose the charity of their choice, and Augustina's will make a special donation!
Become a fan of "Augustina's" on Facebook, and tell them you heard about them via the blog post at EstatesofCarmel.com. Fans will receive a $25 gift certificate to be used during the month of April!
Augustina's located on Ocean between Mission & San Carlos
Carmel-by-the-Sea, CA 93921
(831) 624-2403
www.augustinaleathers.com