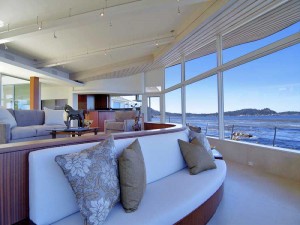 $729,750 cap in high-cost areas will continue until Sept. 30, 2011
Congress has passed H.R. 3081. This extension allows Fannie, Freddie, and FHA to loan in markets with the highest cost of living without charging exceedingly high rates, formerly called jumbo or super jumbo mortgages depending on the amounts of the loan.
Extending the current limits is important to aiding borrowers keep on to have access to affordable long-term, fixed-rate mortgage credit in today's troubled economy.
By helping to keep mortgage interest rates low for people who want to refinance an existing mortgage or buy a home, the existing limits have been major factor of keeping the mortgage industry running.
In addition to lengthening the loan limits through Sept. 30, 2011, HR 3081 expands the FHA's power to back multifamily loans, to guarantee continued funding for development, renovation and mortgage refinancing to preserve affordable rental housing,
The temporary increments in the $417,000 conforming loan limit in areas with the highest cost of living is brought by congress in 2008, allowing Fannie Mae and Freddie Mac to buy or secure loans of up to 125 %of the average home price in high-cost areas.
Click Here to See Carmel CA Homes for Sale!
The limit back down to 115 %of average home price, with a cap of $625,500, on Jan. 1 2009 is briefly brought by a sunset clause in that bill.
The stimulus bill passed by Congress last year, H.R. 1, the American Recovery and Reinvestment Act, return the higher limits and $729,750 cap through the end of 2010. The maximum in normal housing markets stays $417,000 for Fannie and Freddie and $271,050 for FHA.
Housing and Urban Development issues Federal Housing Finance Agency maximum mortgage loan limits at the county and metropolitan statistical area on its website. Loan limits for Fannie and Freddie are issued by the FHA.
Without the extension, temporary increase was due to expire on Dec. 21these loan amounts would fall under such terms as true non-conforming loan limits which in recent years have come with a much higher cost to the borrower. The $417,000 conforming loan would also have reverted back to the 2009 limits. The impact of that would mean a $400,000 loan would have been more expensive and sometimes not allowed by FHA depending on the state and the county limits.