Real Estate Sales Market Update for Carmel, Pebble Beach, Carmel Valley, Big Sur, Monterey, and Pacific Grove by Nicole Truszkowski
Real Estate sales in Carmel, Pacific Grove, and Monterey were very active for the month of August  2011.  Big Sur, Carmel Valley and Pebble Beach real estate sales were not as significant.  Review the detail chart below to see a quick summary of real estate activity in six of the Monterey Real Estate regions for the month of August 2011.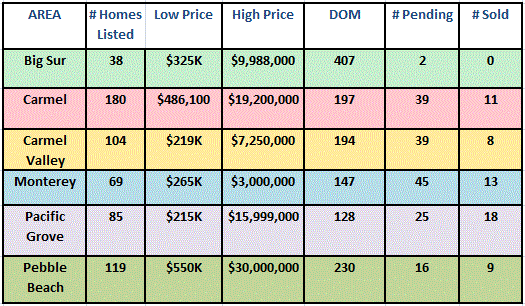 The previous chart shows some recent activity in the Carmel, CA Real Estate Market. The numbers below represent real estate stats for single family home during the month of August 2011. The first 4 columns are for active single family homes – the number of homes listed, the lowest priced home listed, the highest priced home listed, and the average number of days the homes have been listed. The next column shows the number of homes current under contract and the last column shows the number of sold homes for the previous month. The information was taken from our local MLS and represents sales during the dates of August 1-31, 2011.