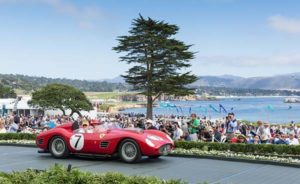 Car week on the Monterey Peninsula is like a classic James Bond 007 movie; beautiful people, fast cars, jaw dropping scenery, and luxurious real estate villas hosting social events for the who's who in the world! As a luxurious real estate broker, it is imperative to be rested and ready to rock during car week. Luxurious homes and beautiful cars go hand in hand. Car week is where the connections happen, the car aficionada's love their real estate just as much as cars. It is not uncommon for a serious car collector, to also be a serious investor in luxury real estate. Personally, my most exclusive clients in real estate, are more than likely in one way or another, involved in car week on the peninsula.
It is imperative to have your home listed during car week, if you own an ultra-luxurious estate, and you desire to sell it sooner than later. A high percentage of luxurious homes sold in Carmel and Pebble Beach, have been previewed or seen during car week. Actual sales typically occur the months following car week. Inventory levels of luxurious villas, and estates increase in July and early August, in preparation of the global trotters that visit our communities.
I always share with my listing clients or folks thinking about selling, that car week is the real deal. The movers and shakers who can seriously afford our real estate, are in town. We have a captive audience, now is the time to wow them. Car week and the ambiance it creates, inspires people to dream about living here. As locals, we should be grateful to have such an amazing event to celebrate classic, vintage, and unique cars, while sharing the lifestyle of living here on the beautiful Monterey Peninsula.
Continue to check in weekly for the latest up-to-date luxury real estate information or for helpful tips by your favorite Real Estate Guru, moi! Any questions or concerns regarding buying or selling luxury properties please be sure to contact me, Nicole Truszkowski at 831-238-7449!