Downtown/Fisherman Wharf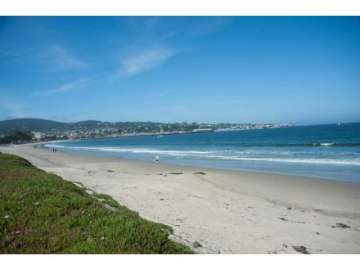 The Downtown/Fisherman Wharf neighborhood of Monterey is home to coastal beach town living with sandy dunes and the sapphire blue Monterey Bay providing a perfect backdrop for your life on the Monterey Peninsula. Homes located in the Del Monte Beach Townhome complex on La Playa Street offer spectacular views and the beach is footsteps away. You will feel as if you are truly on vacation as you take in the stellar views and breathe the fresh ocean breezes. The area is also comprised of single family homes surrounding the beautiful El Estero Lake and Park where you can spend time in a paddle boat, feeding the birds, napping in the green grass or taking the kids to the extensive play area at Dennis the Mennace Park. The neighborhood is bordered by Pacific Street to the west, the Monterey State Beach shoreline to the north, Camino Aguajito to the east and Fremont Street to the south.
The neighborhood has a vibrant downtown which is balanced by the rich character and history of canneries of yesterday, active fishing fleets of today and the beauty of the beaches and unique Monterey Bay. For the baseball enthusiast young and old, Jack's Park offers batting cages and well-maintained ball fields. Monterey is full of history and in this neighborhood you will find three cemeteries, San Carlos, Saint John's and El Encinal. San Carlos dates back to  1834 and is the resting place of many of the founding members of the Monterey Community.  There are numerous businesses in the area, a harbor, and an abundance of restaurants located downtown and along the wharf as well as a number of hotels. Residents are part of the Monterey Unified School District and Monterey Peninsula College, a community college is in close proximity. Fisherman's Wharf offers a number of good restaurants for local seafood fresh off the boats and is a fun place to experience the sights and sounds and entertain visiting family and friends. Nearby Cannery Row delights visitors and locals alike with a festive atmosphere of food, fun and of course the treasured Monterey Bay Aquarium.
Currently as of February 24th, 2015 there are no homes available in this neighborhood for sale. In general homes in Downtown/Fisherman's Wharf range in price from $1.2 million for a 2 bedroom 3 bath townhome on La Playa Street with 1,156 SqFt of living space, to $300,000 for a 625 SqFt beach bungalow. Click here to view all homes for sale in the Downtown/Fisherman's Wharf neighborhood. For all available Monterey real estate, click here.
Only one home sold in 2014, it was a 2 bedroom, 2.5 bathroom townhouse with 1,240 SqFt of living space and sold for $885,000.
In 2013, the most expensive home sold in the neighborhood was a 1,377 SqFt ocean-view townhouse which sold for $1.377 million, while the least expensive home was a 625 SqFt bungalow which sold for $300,000.
In 2012 there were 2 sales in the neighborhood, the most expensive at $793,450 for a 2 bedroom 3 bath townhome in Del Monte Beach with 1,156 SqFt of living space. The least expensive home sold was located on Pearl Street with 3 bedrooms and 1 bath and with just 951 SqFt of living space. Built in 1935, this home was a being utilized as a rental property. For a detailed analysis of Monterey real estate, check out our monthly Community Market Reports.
To live in Downtown/Fisherman's Wharf is to experience the uniquely beautiful and richly colorful city of Monterey from an active and centrally located neighborhood. From the classic sailboats and sleek yachts in the harbor to the bustling Cannery Row to the tranquility of an evening spent watching the sunset reflect upon the bay, it is no wonder people travel far and wide for the opportunity to experience Monterey. Your downtown location allows for easy access to museums, shopping, and dining within walking distance of your home. There are a number of great golf courses to enjoy right in Monterey including Del Monte, Monterey Pines, Blackhorse & Bayonet. And for a world renowned golfing experience, Pebble Beach is just a 10 minute drive away where you can play some of the most scenic and challenging courses a golfer could dream of including the Links at Spanish Bay, Pebble Beach, Poppy Hills, Spyglass and the exclusive Cypress Point. For outdoor activities, living in this neighborhood is unbeatable with cycling, jogging, kayaking, surfing and more outside your front door. What a spectacular and special community to call home!