Highlands Inn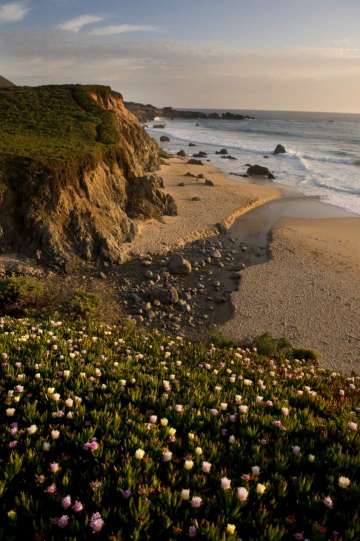 Highlands Inn neighborhood is named for its proximity to the luxurious Highlands Inn in Carmel Highlands. Located along Highlands Drive, this retreat offers spectacular coastal views, award -wining dining and a relaxing spa. Though businesses here are few and far in between, you will  find the Carmel Highlands General Store which is a welcome stop for travelers to stock up on treats and wine. The Tickle Pink Inn is also located in the neighborhood and is a romantic, oceanfront hotel popular with tourists looking for a weekend hideaway with expansive views of the Pacific.  The neighborhood of Highlands Inn is bordered by Corona Way and the Point Lobos Ranch Preserve to the north, Wildcat Creek to the south, Hwy 1 to the west and McDevon Road at the Garrapata State Park to the east.
There are currently no active homes for sale in the Highlands Inn neighborhood, as of February 2015. However, in general homes in this area can range in price from $4.125 million for a 6 bedroom, 7 bathroom, 5700 SqFt home on a 10 acre Ocean View lot, to $725,000 for a 3 bedroom, 2 bathroom, 1,443 SqFt home on a 21,108 SqFt lot. Click here to preview all Carmel Highlands homes for sale in the Highlands Inn neighborhood. For all available Carmel Highlands real estate, click here.
There was only one home that sold in this area in 2014. The home sold for $1,425,000 with 2 bedrooms, 2 bathrooms, 2,142 SqFt of living space and Ocean Views on a 25,265 SqFt lot.
In 2013, there were three homes sold in the neighborhood, the most expensive home sold for $968,000 and was 1,530 SqFt on a 43,560 SqFt lot. The least expensive home sold in 2013 was sold for $765,00 and was 2,126 SqFt on a 20,250 SqFt lot.
The most expensive home sold in the Highlands Inn neighborhood in 2012 sold for $2.35 million and had 3,512 SqFt of living space situated on an 87,120 SqFt lot with panoramic views of the coast. The least expensive home sold in the neighborhood sold for $725,000 and had 1,433 SqFt of living space on a 21,108 SqFt lot with peak a boo ocean views. For a detailed analysis of Carmel real estate sales, check out our monthly Community Market Reports.
To own a home in the Carmel Highlands neighborhood of Highlands Inn is to enjoy coastal living with magnificent views and easy access to some of the area's most beautiful park lands including the Garrapata State Park and Point Lobos State Reserve. At Garrapata, you may hike on beachfront trails that run from the beach into the redwoods. An invigorating canyon climb to the top during the winter months will reward you with a possible glimpse of the whales as they make their yearly migration. Point Lobos State Reserve, is home to over 250 different animal and bird species in addition to hundreds of plant species. Explore the headlands on foot or if you are a diver, explore the amazing underwater world of kelp forests in this protected and unique marine habitat. When you seeking an excellent meal out or to catch a concert, Carmel-by-the-Sea is a short drive away. Shop along Ocean Avenue's stylish boutiques or stop in a café for a hot coffee before strolling down to Carmel Beach. When you yearn to tee off on some of the most beautiful courses in the world, Pebble Beach is also just a short drive away where you will experience world class golf, lodging and events. Your home in Highlands Inn neighborhood will be an exquisite home base to explore the peninsula and develop a love of its beautiful land for years to come.