Malpaso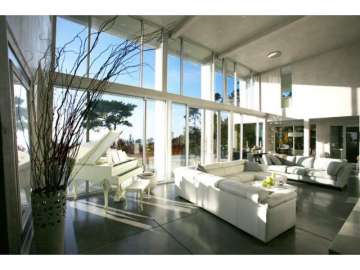 The neighborhood of Malpaso in Carmel Highlands is located east of Highway 1 and south of the Highlands Inn neighborhood.  It is bordered on the eastern side by Metone Road and open land. San Remo Road is one of its main streets in addition to Lower and Upper Walden Road. Homes here have gorgeous vistas of Yankee Point and whitewater ocean views. Several homes in this desirable neighborhood have architecturally stunning contemporary design that showcase walls of glass, seamlessly integrating the dramatic views into your everyday living space and surroundings. With large parcels, homes in Malpaso offer generous living space and an abundance of land for outdoor living, privacy and relaxation. Surrounded by towering cypress this neighborhood is a retreat from the hustle and bustle of Carmel-by-the-Sea, yet still in excellent proximity to Hwy 1 so you may enjoy all the conveniences, shopping and dining available.
Homes in the Carmel neighborhood of Malpaso range in price from $7.495 million for a 5,932 SqFt home on a 65,340 SqFt lot, to $1.85 million for a 3,578 SqFt home situated on 37,600 SqFt parcel.  Click here to preview all Carmel Highlands homes for sale in the Malpaso neighborhood. For all available Carmel Highlands real estate, click here.
There are 2 homes currently on the market in this neighborhood. The most expensive home is an Ocean view estate with pool and listed for $6,495,000 with 5 bedrooms, 6.5 bathrooms, 5,932 SqFt of living space on a 1+ acre lot. The other home is a bank owned property with Ocean views, listed for $2,799,500 with 5 bedrooms, 3.5 bathrooms with 5,732 SqFt on 2+ acres. In 2014, there were 6 homes that sold in the Malpaso neighborhood. The most expensive sold for $2.74 million and was 5,049 SqFt on a 6 acre lot, while the least expensive sold for $1.48 million and was a 3,340 SqFt home on a 50,791 SqFt lot.
8 homes were sold in the neighborhood in 2013, the most expensive sold for $5.25 million and was 5,766 SqFt on a 499,197 SqFt lot, while the least expensive sold for $967,500 and was a 1,920 SqFt home on a 43,560 SqFt lot.
The most expensive home sold in the Malpaso neighborhood in 2012, sold for $3.125 million. This 4,139 SqFt Tuscan style home was situated on a 35,188 lot and had 4 bedrooms, 3.5 baths and ocean views. The least expensive home sold for $730,000 and was a 2,610 SqFt home situated on a 27,960 SqFt lot. With 4 bedrooms and 4 baths this rustic home had great potentials with its ocean views and guest unit with private entrance. For a detailed analysis of Carmel real estate sales, check out our Community Market Reports.
To own a home in Malpaso is to live minutes from all of the entertainment, recreation, shopping and dining the Monterey Peninsula offers but in a peaceful neighborhood that will serve as your private retreat. You will enjoy sunny days spent outdoors on your private deck and patio enjoying the expansive ocean views and nights with spectacular sunsets. Outdoor enthusiasts will love the nearby beaches, Point Lobos Preserve and hiking trails to explore, and cyclists will have endless roads to explore ocean side or down the lush Carmel Valley. Golfers can take advantage of nearby Pebble Beach and its seven world renowned golf courses that are as beautiful as they are challenging. Life in Carmel Highlands in the neighborhood of Malpaso may strike the perfect balance for you in terms of natural beauty and peaceful retreat and convenient access to Carmel, Pebble Beach and Monterey.
Photo courtesy of MLS