Monterra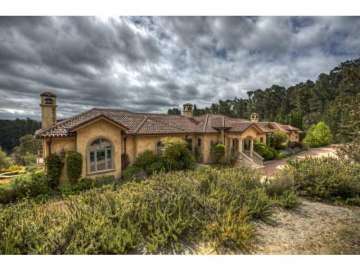 The exclusive community of Monterra is a private, gated community set high above the Monterey coastline off of the Monterey Salinas Highway. It is situated next to the Tehama Golf Club, which is available to Monterra residents to enjoy with a Social Fitness Membership. There are 168 homesites situated on 1700 acres of land rich with oak trees, wildflowers and natural splendor with stunning panoramic views. Homes offer privacy and tranquility and were created in harmony with their natural surroundings. This prestigious community is accessible by Hwy 68, the Monterey Salinas Hwy, and is across from the Monterey airport making it an ideal location for second home owners who fly in for a weekend escape. For families with school-age children, homes here are part of the Monterey Peninsula Unified School District. Your commute is a breeze should you have an office in nearby Ryan Ranch home to many businesses and professional offices as well as the many medical offices on Ragsdale Drive. Homes in Monterra are custom designed with impeccable detail and quality construction. If you are looking to build your dream home from the ground up or buy an existing available estate property, Monterra  is a wonderful option that affords a luxury lifestyle, sprawling parcels and floor plans and incredible convenience and accessibility to the best of the Monterey Peninsula including Carmel-by-the-Sea and Pebble Beach. This area of Monterey is also tucked away from the coastal fog, allowing for sun drenched days and clear calm nights under starry skies.
As of March 3rd, 2015 homes in Monterra range in price from $3.988 million for a 13,174 SqFt estate on a large 91,912 SqFt lot, to $2.795 million for a 4,167 SqFt European villa on 1.54 acres.
In 2014 there were 4 homes that sold in this neighborhood. The most expensive home was 5 bedrooms, 5.5 bathrooms and featured 5,818 SqFt of living space on 4.5 Acres. The least expensive home sold for $2,775,000 for a 3 bedrooms, 3.5 bathrooms and 4,152 SqFt of living space on 2.32 Acres.
There were 3 homes sold in the Monterra neighborhood in 2013. The most expensive home sold in 2013 was a 5,646 SqFt estate on 3.24 million, which sold for $4.1 million. The least expensive home sold in 2013 was a 4,280 SqFt home on a 101,495 SqFt lot, which sold for $2.7 million.
In the year 2012, there were a total of 6 homesites that sold in Monterra. These parcels ranged in price from a little over $1 million to $450,000. Views varied from Monterey bay views and city lights to gently sloping land with mature oaks and rolling hill vistas. For a detailed analysis of Monterey Salinas Highway real estate sales, check out our monthly Community Market Reports.
It is easy to live an active, vibrant lifestyle with your home base in the coveted Monterra community. The beautiful sunny weather aside, you will have endless options for hiking, jogging, cycling and golfing. Though you may feel a sense of detachment from the hustle and bustle you are as close to all of the events, entertainment and world class dining and shopping, as one could dream of. Minutes from downtown Monterey, you can experience the town's rich history and roots with a walk down Cannery Row or a visit to Steinbeck's stomping grounds. A short drive and you will be transported to Carmel-by-the-Sea, enchanting and charming with its story book cottages, cobblestone streets and casual elegance. Tour the local art galleries, stop in for a treat at one of the many cafes or walk to the bottom of Ocean Avenue to enjoy Carmel Beach with its aqua waves and white sandy beach. Golfers will take advantage of the abundance of challenging and visually stunning golf courses in Monterey, Carmel Valley and prestigious Pebble Beach where Spyglass, Pebble Beach Golf Links, Spanish Bay and Poppy Hills are only a few of the remarkable courses at your whim. For activities and recreation you are only limited by your imagination.
When searching for a luxury home on the Monterey Peninsula or a community in which to build the home of your dreams, Monterra is a premiere neighborhood to explore the possibilities. You will be struck by the peacefulness, open space and privacy and impressed by the magnificence of the homes. It will be easy to imagine constructing your home on an open, spacious parcel of land as you stand and admire the views, feel the warmth of the sun and the envision entertaining friends and family in such a serene setting. Everything you could hope to enjoy in terms of lifestyle, recreation and everyday living and conveniences is unbelievably close in your central location. For the discerning homebuyer seeking a refined and elite community surrounded by the beauty of nature, Monterra is a must see.
Photos courtesy of MLS.