Quail Meadows/The Preserve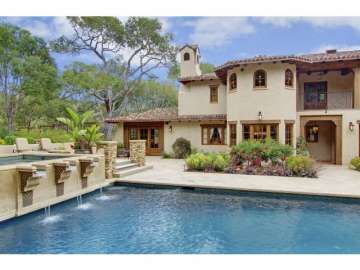 The neighborhood of Quail Meadows/The Preserve encompasses some of the most beautiful land on the Monterey Peninsula. Heading down Carmel Valley road inland from Hwy 1 in the meadows adjacent to Quail Lodge you will find the beautiful estates of Quail Meadows. This community of coveted, luxury homes is accessible by Rancho San Carlos Road directly off of Carmel Valley Road less than 10 minutes from Carmel-by-the-Sea. Estates here have sprawling floor plans and are situated on large parcels of land with ample room for swimming pools, equestrian facilities, 5+ car garages, wine cellars, and guest homes complete with stunning mountain and ocean views. Golf course view homes are also very desirable with expansive views of the Quail Lodge Golf Course fairways. Homeownership in Quail Meadows does require monthly association dues.
There are two main access points into The Preserve. Rancho San Carlos Road is the closest gate from Carmel, the second being Robinson Canyon Road. The Santa Lucia Preserve is a 31 square mile, 20,000 acre community in the coastal foothills that provides a unique luxury living experience for the 300 families that call the land home. 18,000 acres are permanently protected and dedicated to open space. When investing in a home or homesite, you will be able to experience which views and surroundings speak to your spirit, whether it is the homesites with ocean views that receive the cool sea breezes, those on the oak studded rolling hills where the sun warms the colorful wildflowers, or near the redwood forest with its sacred stillness. Land in the Preserve varies in topography and each area has its unique character, microclimate and feel. There are 54 distinct habitats.
Towards the end of the 20th century when development pressures begin to threaten the land the Santa Lucia Conservancy was created. Funded by its founders by a $25 million endowment, it was established to manage and protect The Preserve Lands. Santa Lucia Conservancy's mission is to "conserve and sustain the Santa Lucia Preserve, a unique Central Coast landscape, through a model of compatible development and sustainable conservation, where natural landscapes are protected and restored for Santa Lucia Preserve residents and all future generations. "
Estates in the Preserve are thought of as legacy homes, homes so special that they will stay in your family to be enjoyed by generations for lifetimes of memories. It is a sanctuary to gather friends and family and to create a history that reveres the past and protects the future through conservancy, respect for nature and a sense of community.
The Preserve has two private equity clubs, The Preserve Ranch Club and The Preserve Golf Club which are invitation only. When you purchase a property in the Preserve you will be invited to apply for membership in one or both of the Clubs during escrow. The application is then reviewed and accepted or declined prior to the close of escrow. The Preserve Ranch Club is limited to 400 equity memberships and available to homeowners in the Preserve as well as non-resident members of the Preserve Golf Club. The Ranch Club is the social hub of the community and has luxury amenities designed for fun and recreation including the Hacienda- a 16 room lodge for members and their guests with fine dining, a Sports Center including an aquatic and tennis center, an Equestrian Center, as well as hundreds of miles of hiking and biking trails, campsites and Moore's Lake-an 18 acre lake for paddle boating, swimming and catch and release fishing. Moore's Lake also has campsites where families can set up camp under the stars during warm summer nights, roasting marshmallows and telling stories. The Ranch Club plays tribute to George Gordon Moore's legacy of "ranch style hospitality" dating back to the roaring twenties when his Hacienda welcomed friends and family with feasts and festivities, swimming, tennis, polo, and food and wine.
The Preserve Golf Club is invitation only and unlike the Ranch Club it is offered to non-property owners who are actively interested in golfing at the Preserve. The award winning course was designed by Tom Fazio and the club is limited to 300 equity golf members. The Spanish style club house designed by Hart/Howerton and its surrounding buildings are reminiscent of 1830's architecture. Set on a knoll surrounded by oaks, the vistas are magnificent. The actual course was designed to reduce environmental impact on the land and to work with the contours and natural landscape. A drainage system was implemented that recycles water from the course through a reclamation system, ending up back in the irrigation system to water the greens. Your walk through all 18 holes emulates the experience of walking the Preserve and its varying topography, vegetation and elevations. It is a course where you seldom see another golfer and tee times are rarely required due to the limited 300 person membership.
Click here to preview all Carmel Valley homes for sale in the Quail Meadows neighborhood. For all available Carmel Valley real estate, click here.
Historic Market Information
2018
4 homes sold in this neighborhood in 2018. The most expensive home was located in the Preserve community and was a 5 bedroom, 5.5 bathroom Mediterranean-style home with 4,859 SqFt of living space on 4.45 acres complete with a tesla charging station and selling for 3.825 million. The least expensive home sold for 1.596 million for a 3 bedroom, 2.5 bathroom home with 2,229 SqFt of living space plus 280 SqFt guest house on a 11,232 SqFt lot in the Quail Lodge community.
2017
3 homes sold in this neighborhood in 2017. The most expensive home that sold, sold for 2,146,115 and was a 3 bedroom, 2.5 bathroom Craftsman featuring Quail Lodge Golf course views that span from the 15th – 18th fairway and sits on a 11,245 SqFt lot. The least expensive home sold for 845K for a 2 bedroom, 2 bathroom, 1,398 SqFt, single-level townhouse with Golf Course views.
2016
10 homes sold in this neighborhood in 2016. The most expensive home that sold for 2.3 million, for a rarely available, 2-story home with 4 bedrooms, 3.5 bathrooms, 3,015 SqFt of living space on a 11,182 SqFt lot plus guest house. The least expensive home that sold, sold for 756K for a 2 bedroom, 2 bathroom, single-level, end-unit condominium.
2015
21 homes in 2015 sold in this neighborhood, the most expensive home that sold is a 6 bedroom, 7 full and 6 half bathroom, 7,549 Sqft home that sat on 52.39 acres in the Preserve community and sold for 6.7 million. The least expensive home sold was a 2 bedroom, 2 bathroom end unit Quail Meadows townhouse with 1,398 SqFt of living space and sold for $615K.
2014
There were 19 homes in 2014 that sold in this neighborhood, the most expensive home sold for $3.825 million and was 4,654 SqFt of living space on 3.89 acres of land, while the least expensive was sold for $685,000 and was a 1,744 SqFt townhome on 1,721 SqFt of land.
2013
In 2013 the most expensive home sold in the neighborhood was a 5,721 SqFt home on 18.27 acres and sold for $5.9 million, while the least expensive was a 1,756 SqFt home on 1,622 SqFt of land and sold for $520,000.
2012
In 2012 there were 8 lot sales in The Preserve ranging in price from $450,000 to $900,000 at an average price of $710,000. There were 2 home sales in 2012 with closing prices of $2.585 million and $3.8 million respectively. In 2011 there were 12 lot sales the average price being $932,524.
To live in Quail Meadows or The Preserve is to own premier real estate in the prestigious Carmel area. For distinctive, private estates in breathtakingly beautiful surroundings the communities are unrivaled. Homes here are unique with quality design and craftsmanship. Quail Meadows offers fantastic proximity to Carmel-by-the-Sea, Pebble Beach and world class dining, golfing, shopping and recreation, while still offering large parcels of land for privacy and retreat. The Preserve, though more remote in location offers ownership in a protected and cherished section of land where the amenities and luxury country lifestyle leave little reason for venturing too far away from home. Being part of these communities provides homeowners with a very special and coveted way of life and immersion in some of the most beautiful land with the most inspiring vistas imaginable.