Skyline Forest/Skyline Ridge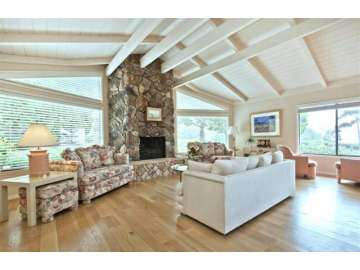 The neighborhood of Skyline Forest/Skyline Ridge is situated east of Hwy 68 in a forested section of Monterey where the hilltop elevation allows for sweeping views of the Monterey Bay. The neighborhood is in very close proximity to Pebble Beach with portions of the neighborhood actually on 17 Mile Drive. Nestled in the hills, these homes enjoy a bird's eye view of Monterey city lights and the sapphire bay, in a peaceful and serene setting. Just past the fog's reach days are usually sunnier here than at the coast just miles away. It is a fantastic neighborhood for quick access to the Highway into Carmel and just a short drive to Pacific Grove for shopping and everyday conveniences. Residents also enjoy quick access to downtown Monterey including the business district and the Wharf. The neighborhood is close to schools and is part of the Monterey Unified School District. Stevenson School, a private school with an excellent academic reputation is also just 5 miles away in beautiful Pebble Beach. With tree lined streets and spacious homes on quiet cul-de- sacs, the neighborhood is highly sought after. A number of condominiums are located here as well which boast the same bay views as the single family homes but with a smaller footprint. For recreation in your own backyard you will have three great parks nearby, Quarry Park, Via Paraiso Park and Veterans Park. Veterans Park is particularly popular for picnicking and offers the only allowable campsites in Monterey. The 81 acre Huckleberry Hill Nature Preserve is nearby as well which is a hidden jewel for hikers in the know.
As of February 24th, 2015 homes in Skyline Forest/Skyline Ridge range in price from $1,235,000 for a 3 bedroom, 2.5 bathroom home with 3,527 Sqft on a 12,632 Sqft lot to $369,000 for a 2 bedroom, 1 bathroom condo with 1,044 Sqft. Homes here are well maintained and it is an ideal neighborhood for families. Click here to view all homes for sale in the Skyline/Skyline Ridge neighborhood. For all available Monterey real estate, click here.
17 homes sold in this neighborhood in 2014. The most expensive home sold for $1,291,950 for a 4 bedroom, 4 bathroom home with 4,290 Sqft of living space on a 12,490 Sqft lot while the least expensive home sold for $369,000 for a 2 bedroom, 1 bathroom condo with 1,044 Sqft of living space.
In 2013, the most expensive home sold in the neighborhood was a 3,400 SqFt home on a 13,000 SqFt lot, which sold for $1.2 million, while the least expensive was a 1,040 SqFt condo which sold for $281,000.
In 2012 there were 22 sales within the neighborhood, the most expensive home selling for $789,000. This 3 bedroom 2+ bath home on Sommerset Vale had 2,550 SqFt of living space and was situated on a .34 SqFt lot. The home also had great views of the Bay. The least expensive home sold for $280,000 and was a 2 bedroom 1 bath condo on Tanglewood Drive with 1,046 SqFt of living space. For a detailed analysis of Monterey real estate, check out our monthly Community Market Reports.
To live in Skyline Forest/Skyline Ridge is to live in a desirable Monterey neighborhood of fine homes with great elevated views. With a lush forested setting your home will be a peaceful retreat set high above the bustle of downtown Monterey. Your excellent location is close to schools, parks and activities along the coast including cycling, surfing, paddle-boarding, diving, running and jogging. For avid golfers, the world renowned golf courses of Pebble Beach are within striking distance for a weekend or weekday game on the meticulous greens with their breath taking views. Centrally located, a short drive to the South will take you to Carmel-by-the-Sea. With its storybook charms and cottages you will enjoy discovering superb restaurants, window shopping at boutiques and galleries, and taking a stroll down Ocean Avenue to Carmel Beach. Driving north up Hwy 68 will take you to Pacific Grove which is deemed "America's Last Hometown". With intricate historic Victorians and places to play along the shore like Lovers Point, you will surely be captivated by its character and friendly energy. And of course the city of Monterey is yours for exploring, from Cannery Row to the Lighthouse Shopping District it is richly historic and a treasured coastal community. What a wonderfully convenient and ideal neighborhood in Monterey to call home!