I enjoy sharing with homeowners the following important piece of advice: "Even if you have no intention of selling your home, always maintain your property as if it is going on the market next week." For many folks here on the Monterey Peninsula, their home is their most valuable asset. I can't stress enough the importance of regular maintenance, inside and out. Life is unpredictable, and you may be forced to sell your home unexpectedly. Regular maintenance will prevent deterioration that could lead to massive repair costs down the road. Prevention is key here!
Let's examine my Top Ten Home Exterior Preservations Tips: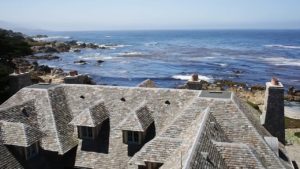 1. Roof: Check your roof at least twice a year, before and after the winter rainy season. Inspect from the ground level, and then get up on a ladder and look at the roofline. Look for loose or missing tiles/shingles, debris build-up in the valleys, rusted flashing or potential dry rot. Dry rot can be identified in several ways such as wood shrinkage, active decay, white or rust discoloration, or wood that can be soft to the touch. Remove dropped pine needles on the roof regularly, and prune tree branches that touch the roof. Note that it is NOT recommended to walk on tile or slate roofs. Hire a contractor to inspect your roof every 3-5 years.
2. Gutters: Clean and inspect your gutters before and after the winter rainy season. Check for loose or leaky gutters and repair or replace those that are cracked or damaged. Ensure that your downspouts drain away from the foundation. Improper drainage can lead to water damage in the basement, crawl space, or foundation. Gutters made of cooper will withstand our weather conditions best on the Monterey Peninsula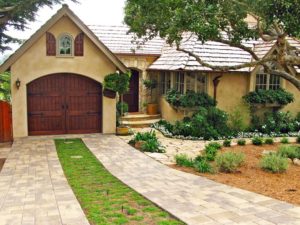 3. Windows/Doors/Skylights: Before the winter rainy season, check weather stripping and the seals around all doors, windows and skylights. Replace any that have deteriorated. After heavy rains, re-inspect for possible water intrusion, and re-caulk or replace faulty stripping. South- and west-facing windows and doors may need staining or re-painting every 24 months. And don't forget the garage door! Your windows should be cleaned every quarter, and the cleaner should look for cracked caulk or sashes.
4. Paint: How often you repaint will depend on the type of exterior finish on your walls. Inspect annually for fading, bubbling, chipping, or pealing paint. Painted wood siding needs a redo every 3 years, wood stain every 4 years, and stucco every 5-6 years. The quality of your paint can greatly increase the time between painting jobs. For example, elastomeric paint is extremely durable, it will last much longer than standard paint products. Another alternative product is cement fiberboard siding, which requires less maintenance than wood, and is more durable than vinyl. Fiberboard siding is guaranteed for at least 25 years. It is resistant to rot, fire, insects, birds and general decay.
5. Decks: The guidelines for paint noted above apply to all decks, which tend to deteriorate quickly when exposed to direct sunlight. Real wood decks typically require maintenance every 24 months. Always check for dry rot damage, and wood-to-soil contact. A great alternative is "Trex" decking, a high-performance, eco-friendly composite board that withstands years of sun and rain.
6. Landscaping: My number one pet peeve as a Realtor is poorly maintained landscaping! Nothing reduces property value faster than a poorly maintained yard and overgrown shrubbery. If you don't have a green thumb, hire a good gardener not just a "mow and blow" guy! At minimum, your yard should be serviced every 2 weeks. Plants should be trimmed and dead-headed, weeds pulled, and leaves and debris blown away. Trees and shrubs should have structural trimming at least once per year. Inspect your irrigation, sprinklers, drip lines, and exterior water faucets every quarter for leaks. A good way to do this is to turn everything off in the house, and then look at your water meter for a full 5 minutes. If it moves… you have a leak! If you neglect your trees and bushes for years, a last-minute trim job will look unbalanced and may require complete removal. Ignoring tree maintenance not only reduces the value of your home, it also creates safety hazards during storms.
7. Outdoor Lighting: Inspect all exterior lighting at least twice a year. Replace burned-out lights and broken light fixtures. Night lighting provides ambiance and security.
8. Pest Inspection: I would recommend a professional pest inspection every 3-5 years by a licensed company. It is not uncommon for homes on the coast to require tenting every 10-15 years to keep termites at bay.
9. Foundation: Inspect annually around the foundation of your home and rake away any soil or groundcover that touches the house. Check for any efflorescent salt deposits and move them.
10. Power Washing: Unless water restrictions in your community prevent it, use a high-pressure washer to clean dirty sidewalks and driveways. Algae and moss on sidewalks can be slippery in wet weather and cause a fall or a lawsuit!
Stay tuned for the next blog post where we will explore interior maintenance tips to maintain your property value for years. As always, it is my pleasure to share my wealth of knowledge with you. If you have any questions, concerns, or feedback, please consult moi, your local real estate expert, Nicole Truszkowski.