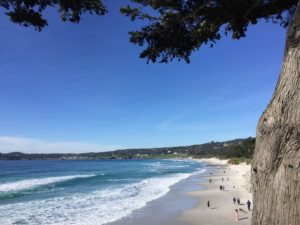 Our life here on earth is a precious opportunity to make a positive impact on our family, friends, professional sphere of influence, and our local communities. Acts of kindness, and genuine authenticity are rarely forgotten by those receiving them. So often I am touched by the kindred spirits that compose the fabric of our community here in Carmel. For many, Carmel captivates us because of the ambiance and peaceful way of life. Let me share a secret: It's the people you meet who will enrich your sense of well-being. Many locals have touched my heart in one way or another … let me share the charisma of some of these special individuals.
One day I hope you have the privilege of meeting Donald. If you enjoy walks along the scenic pathways perched above Carmel Beach, you likely will have that chance, and you will be impressed! Donald is a charming, distinguished British bloke, with a quick wit and endearing personality. Donald always has a positive comment to share, and his enthusiasm for life is sure to brighten your day. Rain or shine, you will find Donald enjoying walks along the ocean — not once, but twice every day. At the spry age of 96, this once renowned architect often shares a kind word with those who — as the Brits like to say — are enjoying their morning constitutional.
As you continue your walk along the beach, you may be lucky enough to bump into Betty and her darling Yorkie, Bonnie. Cheerful and sweet, they will enhance your day with a welcoming hello, and Bonnie will happily share puppy kisses. Do you have a question about our town? Betty is a local history buff and is sure to have the answer. Years ago, as a new Carmel resident, I was lucky to be received into the Betty and Bonnie welcoming club.
Of course, I can't forget to share with you an amazing group of women who comprise the "Carmel Street Walkers." Enjoy socializing as you exercise? This group of ladies walk every Monday, Wednesday, and Friday. Meet them at the corner of Scenic & Ocean, at 8:15 AM sharp, to enjoy a brisk walk in town. Among them are accomplished artists, retirees, homemakers, business professionals and philanthropic souls. I had the privilege of meeting these gals who were celebrating the life of Jay Keyworth, a cherished neighbor who had recently passed.
Marion and Jay Keyworth are and were the kind of neighbors you feel blessed to have nearby. We became acquainted through quirky circumstances. They had recently left town, and forgot to close their garage door. I managed to locate them on their vacation, and safely secured their home. In appreciation of our thoughtfulness, Jay and Marion invited my husband and me for dinner, where a friendship blossomed.
Jay was an unforgettable person who left an astonishing footprint here on earth. The Wall Street Journal recently acclaimed him "The Godfather of Missile Defense." In his accomplished career as a physicist, Jay was the scientific advisor to president Ronald Reagan. Jay supported the president's vision of ending the Cold War by promoting the technology for shooting down ballistic missiles in flight. Reagan and Jay's foresight, the cornerstone of the Strategic Defense Initiative of 1983, is still protecting our country today. Jay's work gave us systems like Thadd — which can intercept short- and medium-range ballistic missiles — that are now deployed in the Korean Peninsula. Who would have thought that your very own neighbor would have such an influence on world events unfolding at this moment?
I knew Jay as a kind soul who cherished his wife Marion, his family and friends, and who had a huge passion for gourmet cooking! I was vaguely aware that Jay had done some amazing things in his lifetime, but he was never one to boast about them. His memorial celebration, where I was able to hear his friends and colleagues speak about his accomplishments, was an astounding and unforgettable experience. It was a privilege to know Jay as a friend and neighbor. Little did I know that we have Jay Keyworth to thank whatever containment we have against the North Korean nuclear threat.
I feel honored and grateful to know and love these amazing people who refine the culture of our community here in Carmel.