From the desk of Nicole Truszkowski, your Weekly Luxury Market Report for Carmel and Pebble Beach Real Estate for the week of July 9th, 2016.
While most of the Monterey Peninsula only experienced tiny sparklers this past 4th of July, the luxury real estate market brought a few fireworks with multi-million dollar mansions and shorter days on the market. See below for details!
Pebble Beach Real Estate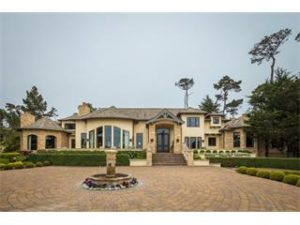 Pebble Beach saw six new listings this past week, one of note, a beautiful Pebble Beach estate with views of Cypress Point and the Ocean. This magnificent home situated on Portola road, and located in the Lodge neighborhood of Pebble Beach, hit the market with a price tag of 8.3 million; last sale was the lot for 2.8 million, this is the first time it's been on the market since then. Portola road offer stunning ocean views and is a showcase street for some pretty spectacular mansions.
Two homes went pending, including another home on 17- Mile drive, one of our "hot spots" amongst the luxury buyers this year. The sellers at 3850 17-Mile drive should be thrilled to finally have their home in escrow, considering it took 6 years before they snagged a buyer. The pain could have been alleviated if they took the offer from my clients who wrote 4 years ago, for 11 million! They blew my buyers off like a bad fart, it will be interesting to see if the wait was worth it for them!
Lastly 5 homes closed escrow this past week, with 2 of the 5 spending less than a month on the market. A home on Oak Knoll road in the Country Club West neighborhood, originally listed for 1.695 million, and sold 29 days later for 1.6 million. We also saw a home on Presidio that was listed for 1.371 million, and 24 days later closed for 1.333 million; BOTH of these properties where within the "sweet spot" price range for many first time home buyers in Pebble Beach.
Click on the link to search the most up-to-date information on available Pebble Beach homes for sale.
Carmel Real Estate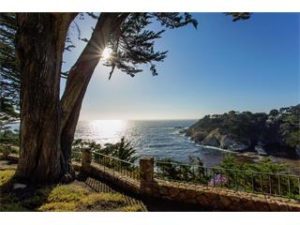 Carmel real estate continues to explode with luxury listings this past week; a contemporary home perched on a bluff above coveted Wildcat Cove, hit the market with a new local listing agent. This property is located in the Pt. Lobos area of Carmel Highlands, and went live with 10 million price tag. Last sold in 2003 for 5.7 million, the home is in original 1988 condition and is very dated! The sellers are dreaming if they think someone is going to pay 10 million dollars, for an outdated home with poor quality finishes. Sure it's all about the location, but if you have to spend another 7 million to improve quality, so a luxury buyer would even consider this home. A final finish price tag of 17 million doesn't fly, considering it will take 2-3 years before the home would be turn-key. In my opinion the final sales price will be somewhere around 6-7 million. Stay tuned for updates on this overpriced property
Four homes went pending, including a 3-bedroom condominium located in the luxurious Carmel Valley Ranch community, overlooking the 8th fairway. Listed for 1.050 million, spending 6 days on the market, this home is scheduled to close mid August. Finishing out the week, Carmel Real Estate saw 7 homes close escrow. A contemporary residence in Quail Meadows spent 55 days on the market, was originally listed for 4.7 million, and sold for 4.46 million. We also witnessed short days on the market with a property in Mid-Valley, that I spoke of the end of April; this home sits on a private 5.28 acres, was listed for 2.85 million, and sold for 2.8 million 7 days later. I do think it's important to note though that this Valley estate spent time on and off the market since 2006, when it was originally listed for 3.45 million. Looks like the sellers found the right recipe of timing and price point and caught themselves a buyer!
Click here to search the latest available Carmel homes for sale.
Quick Recap: I mentioned last week that I was looking forward to seeing if this holiday weekend sparked any big deals, and it did with another property on 17- Mile drive going into escrow, along with a few other mega-luxury properties hitting the market. Hopefully the trend continues and we'll see more high-end properties going into escrow. Be sure to check in weekly to stay up-to-date on all things luxury real estate on the Monterey Peninsula, and if you or someone you know might be looking to take advantage of this market please don't hesitate to contact me, Nicole Truszkowski at 831.238.7449. I would be more than delighted to help you find the perfect home! See you next week, until then here's what's going on around town this weekend:
7/8 – 7/10 – FIM SuperBike World Championship at Laguna Seca
7/9 – Race Night on the Row at Cannery Row
7/10 – Sunday Blues in the Park at Laguna Grande Park