From the desk of Nicole Truszkowski, your Weekly Luxury Market Report for Carmel and Pebble Beach Real Estate for the week of June 24th, 2016.
The summer trends of mega-luxury properties hitting the market, continues with a magnificent French Country estate entering into the luxury real estate arena. This abode is situated on 17-Mile drive, and is one of the RARE 31 ocean frontline properties that everyone in the world wants to own! Only 31 families in the world have the opportunity to own ocean frontline in Pebble Beach, there will be a rush of potential prospects chomping at the bit for this turn-key property. In fact, I had clients fly in from halfway across the country to tour this property this week!
Pebble Beach Real Estate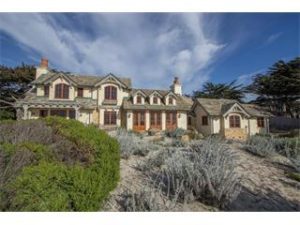 Pebble Beach continues its recent trend of major activity on 17-mile drive with a new French Country estate going live in the MLS at 9.8 million. Perfectly situated on the dunes just set back from the restless ocean, this trophy home radiates luxurious architectural design elements, and state of the art finishes, sure to impress the most discriminating buyers. The current owners lucked out when they purchased this home back in 2011 for 6.5 million, we were deep in the recession and home prices hit rock bottom. The opportunity to capitalize on our healthy real estate market, and bounce back with a great return on investment is right around the corner for these folks. I predict this home will be in contract in 30 days or less.
Along with this spectacular property, 6 other homes hit the market in the past two weeks in Pebble Beach. Three homes went pending; a perfectly located Country Club West abode spent 26 days on the market at a list price of 1.795 million before going into contract. Interesting that the COE is until May 10th, 2017, perhaps the current owners aren't quite ready to part from their home. We also saw a modern home in the Upper Forrest area that was listed for 1.395 million, spend 31 days on the market, and is scheduled to close July 8th. Lastly we saw 2 homes close escrow; another property in the Upper Forrest neighborhood, that was listed and sold in the same day. Listed for 950K and sold for 990K.
Click on the link to search the most up-to-date information on available Pebble Beach homes for sale.
Carmel Real Estate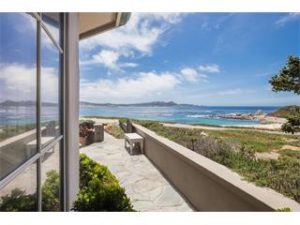 Carmel real estate is definitely trying to burn off the June gloom by upping its luxury real estate activity with 19 new listings in the past two weeks. An oceanfront residence in the Carmel Point neighborhood sprang onto the market with a price tag of 12.9 million. Showcasing a one level floorplan with 4087 Sq.ft of living space, and mesmerizing ocean waves across the street. Last time this home graced the market in 2009 it was listed for 13 million, however, they had no luck catching a buyer. Hopefully this time they will have a better go of it, considering the luxury market has heated up for ocean view homes.
Nine homes went pending; a beautifully renovated property located in the coveted Golden Triangle neighborhood spent 15 days on the market before being seized up by some lucky buyer. Listed for 2.525 million, this home is scheduled to close July 7th. A home with expansive ocean views situated in the Carmel Woods area, spent 5 days on the market before going into contract. Listed for 1.349 million and scheduled to close mid-July. Another "sweet spot" priced home attracting buyers like bees to honey! Finally, fifteen homes closed escrow this past week, with half of these properties spending 30 days or less on the market. A gorgeous home in the Yankee Point neighborhood, a highly desirable area of Carmel Highlands, spent 13 days on the market, listed for 2.425 million, and selling for 2.405 million. We also saw a "honey-like" charming Carmel cottage in the North West neighborhood that was listed for 1.16 million, spent 3 days on the market before selling for 1.15 million.
Click here to search the latest available Carmel homes for sale.
Quick Recap: The big news of the official Brexit moving forward caused stock markets to fluctuate, and currency values to dip drastically in some countries. Thus causing luxury real estate to be a safe haven, many investors are shuffling their portfolio strategies to be more real estate vested. If you are thinking about changing your investments to real estate let me help you find the best properties to park your cash.
The trending HOT spots on the Monterey Peninsula continue to be 17-mile drive, Carmel Golden Rectangle and Carmel Point, while the HOT trend of shorter days on market, and 1 – 2 million dollar properties flying of the shelf. Well, that's all for this week, stay tuned for next week's update, until then here's what's going on around town this weekend: