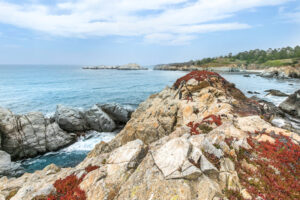 Our spring housing market is not like the super bloom! Our market is rising from hibernation, sluggishly. Home buyers are slowly beginning the hunt again. After the last feverish few years, we seem to have arrived at a standoff. Buyers are no longer forced to overpay, and sellers are unwilling to lower their prices — and, in many cases, even to sell their homes. This is a year of compromise for both sides; sellers aren't going to get their 2021 prices, and buyers aren't going to get a substantial savings.
The market is complex and seems frozen in the higher price brackets so it's tough to predict what will come. Thankfully the turmoil that rocked the banking sector in March is shaking out and settling down. Interest rates and inflation are showing signs of stabilization. The first quarter of the real estate sales season had a lackluster performance here on the Monterey Peninsula. Sales were down 33% in closed units; list price to final sales ratio dropped to 95%, down from 100% this time last year. Days on market climbed 40%, and the median sales price is down approximately 7%.
However, even with these unnerving statistics, we continue to see multiple offers coming in for entry-level priced homes in excellent condition. It is important to note that each community is unique, and these average trends can sway greatly in a highly desirable location. If your home is all about location, priced correctly, and in fab condition, it will typically sell fast. Lower inventory seems to be the trending issue across the nation, and some of my colleagues' markets are on fire.
Opportunities exist for both buyers and sellers. Our team is happy to help you navigate the market dynamics and guide you to wise decision-making when it comes to your real estate portfolio. Zak and I have the pulse of the market; we can bring you opportunities before others find out. Call us for details on some HOT new listings coming to market this Spring, especially if you are looking for an exclusive golf community estate, or frontline ocean home in Carmel.