From the desk of Nicole Truszkowski, your Weekly Luxury Market Report for Carmel and Pebble Beach Real Estate for the week of April 29th, 2016.
Carmel real estate activity sets the record this past week with a 10.7 million MEGA sale! Nationally and globally real estate markets are starting to show signs of fluctuation, mostly likely the result of world currency markets being in turmoil. Locally our real estate markets are strong, however, we are seeing unpredictable sale trends that make it hard to understand why some homes are selling, and others are just sitting. Mega sales are amazing, while mid luxury homes are seeing longer days on the market, homes priced below a million are hard to come by, and sell like hot cakes. See below for details.
Pebble Beach Real Estate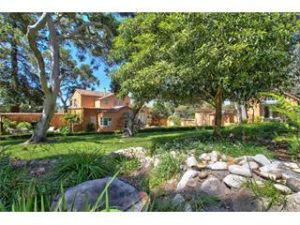 Pebble Beach only saw 3 new listings this week, however, real estate activity continues to set a precedent on the coveted 17-mile drive. This week an 80 year old classic Pebble Beach estate that overlooks the 15th fairway of the Pebble Beach Golf Links hit the market with a list price of 4.6 million. Showcasing views of Point Lobos and Pescadero Point, Mira Mar sits on 1+ acre. The last sales transaction recorded for this property was December 2014 for 3,78 million, it is questionable if this property warrants an 800K jump in price 16 months later. Year-to-date 10 homes have sold on 17-mile drive, with 2 of these sales being townhomes. The world famous address "17-mile drive" definitely attracts the global trotter, and trophy homebuyer.
Two homes went pending this past week; a great home on Padre finally went into contract, after 2-years with multiple price reductions, it seems the sellers finally attracted the right buyer. At time of contract the home was listed at 4.29 million, in my opinion a great buy! The home had good bones, and 360-degree ocean views. Any creative designer could transform this home and grounds into a masterpiece and the owner would reap the benefits. Two homes sold in Pebble Beach this past week, a home on El Bosque which was listed and went pending in 3 days, listed for 1.395 million and sold for 1.4 million. A turnkey home, which some lucky buyer was smart to pounce on quickly!
Click on the link to search the most up-to-date information on available Pebble Beach homes for sale.
Carmel Real Estate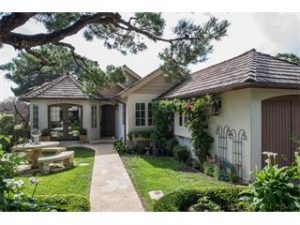 Carmel takes the lead this week with 12 new properties hitting the market this week. A charming Carmel abode on Carmelo Street graced the market this week with a list price of 3.695 it was formerly listed at 3.99 million. A superb location and just 3 blocks from the beach, featuring lovely interior design elements and ocean views over the treetops. Some lucky buyer is going to capitalize on the 300 thousand-price reductions! Seven homes went pending this past week, with all homes spending 33 days or less on the market. A 5.28 acre country estate in Mid-Valley, listed for 2.85 million and showcasing mountain and valley views, went pending after one week on the market and is scheduled to close end of June.
Lastly 2 homes sold this week including 7 Sand & Sea, if you remember I discussed this property in my April 6th blog post, I predicted a final sales price near 10 million. Bingo! It closed at 10.7 million; the home recently sold for 6.325 million, and then was completely remodeled from top to bottom, at a cost of approximately 1 million dollars. The builder investor group made a tidy profit with this sale, breaking records at 4015 per square foot! This home definitely sets the precedent for this location, however, still doesn't justify a 9.2 million list price for 5 Sand & Sea, considering it is only 1553 Sq.Ft. In my opinion a list price of 6 million is what might start some action! These sellers need to get realistic with actual market trends. Stay tuned to see what happens.
Click here to search the latest available Carmel homes for sale.
Quick Recap: Activity is remaining stable throughout this spring market. May is just around the corner and we should see activity heating up as we get closer to summer and the tourists start visiting our beautiful peninsula.
That's all for this week, until then here's what's happening around town this weekend: