From the desk of Nicole Truszkowski, your monthly review of the luxury real estate market for Carmel and Pebble Beach for the month of January.
Here on the Monterey Peninsula the ultra-luxury real estate market is on FIRE. New inventory, pending sale, and sold estates for January 2017 is impressive. This is awesome news for high-end buyers, and sellers alike. Could this be a result of Trumps "making America great again", only time will tell. See below for details.
Pebble Beach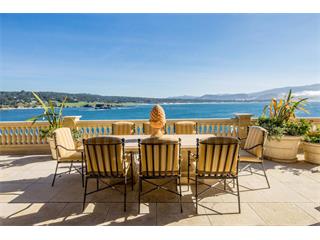 Currently there are 67 luxury (1+ million) homes on the market in Pebble Beach. 15 of those 67 are listed at a price of 10+ million!!! "Peerless in Pebble" an incredible waterfront listing in Pebble Beach, officially hit the MLS with a hefty price tag of 49.8 million. I shared exclusive off market information, on this property a few blog posts ago. My personal-opinion, is this is one of the most spectacular oceanfront homes, I have ever had the opportunity to preview and share with my client base. Truly a portfolio home for the connoisseur of trophy properties. I plan on selling this property to one of my clients very soon.
Another impressive estate to hit the Pebble Beach market, is Houston Astros owner Jim Crane's personal residence. This unique compound offered at 37.9 million is situated on a rare 9+acres, with drop dead ocean views. Showcasing a main residence, guest residence, 2 cabana/pool houses, and a care taker residence with almost 12,000 Sq.Ft. of living space. One can easily be tucked in privately, with all their family, and service staff. Buyers of mine, moving back to the mainland, are seriously considering this opportunity; time will tell if they pull the trigger.
Eight Pebble Beach homes are presently pending sale. One of note, a large "French-Style" estate located on Macomber Drive, finally went pending after numerous years on and off the market! Originally priced at 10.5 million, its scheduled to close the end of February. I bet final sale price will be in the 5.8 million-dollar range.
Lastly, 6 luxury homes closed escrow in January. A property on Riata, originally listed for 5.9 million, at time of escrow was listed for 5.75 million, finally sold 241 days later for 4.85 million. This renovated estate did spend time on the market in 2005–2007 listed at 7.8 million, and again in 2012. Another example of poor market positioning, causing years of pain during the selling process. All unnecessary if you position yourself with a knowledgeable, and experienced luxury real estate agent.
Carmel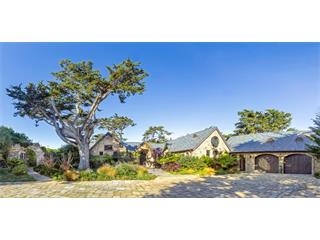 There are currently 133 luxury homes on the market in Carmel with 25 of those homes 5+ million and above! Two homes have recently hit the market at 10+ million. A unique 8 lot estate compound situated on Isabella, in the coveted Carmel Point neighborhood, graced the market for 15 million. Showcasing multiple structures including the main house, guesthouse, and artist studio. For the buyer who prefers more elbow room, this is a rare opportunity to live large in Carmel.
Presently there are 22 luxury homes pending sale. A contemporary masterpiece on Scenic Drive went pending after 183 days on the market, originally listed for 11 million, and at time of contract had a list price of 8.995 million. Last sold in 2014 for 6.8 million, it is now scheduled to close the beginning of April. A sweet gain on equity for the sellers, if it sells near the 8.5 million-dollar range.
26 luxury homes sold the month of January in Carmel. The most significant sale was a home on 17th street that faced Scenic, originally listed for 12.9 million the home sold 152 days later for 9 million. Featuring a large 9400 Sq.Ft. lot, with 4087 Sq.Ft. of living space, the home was quite dated, and desperately needed remodeling. This was not a bargain at 9 million, when it needed a million dollar+ remodel. Needless to say, our luxury sales are on track for a strong year and currently show no signs of letting up!
Continue to check in weekly for the latest up-to-date luxury real estate information or for helpful tips by your favorite Real Estate Guru, moi! Any questions or concerns regarding buying or selling luxury properties please be sure to contact me, Nicole Truszkowski at 831-238-7449!