From the desk of Nicole Truszkowski, your monthly review of the luxury real estate market for Carmel and Pebble Beach for March 2017.
Our real estate market here on the Monterey Peninsula has cooled down, which is funny, since our weather is FINALLY warming up. The slow-down in business, truly has been the result of crazy rainstorms, that have plagued us this winter. The good news is that spring has sprung, and I predict sales will get back on track these next few months. Currently we now have some of the best inventory of homes, I have seen in years. Especially in the upper tier, which is sure to motivate the estate collectors, thinking about increasing their home portfolio.
Pebble Beach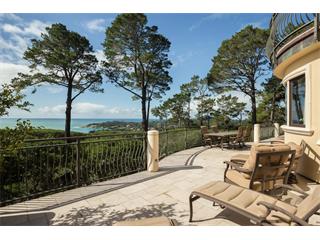 Currently there are 70 (1+ million) luxury homes on the market in Pebble Beach, this is up a little from last month. We're still seeing high numbers of multi-million dollar homes, in fact 29 of those 70 homes are listed 5+million and above. A view inspiring, custom estate situated on Palmero Way, shot onto the market at 17.49 million. Boasting a 2.75-acre lot, and almost 8000 Sq.Ft. of living space, with state of the art everything! A rare building opportunity listing hit the market located on Del Ciervo, this 4.8-acre lot offers lots of possibilities for the creative architect. Offered at 12 million, you are still going to need at least another 5 million to build your dream home! The price you pay in our neck of the woods for panoramic ocean views.
Six Pebble Beach homes are presently pending sale. One of note, a popular Spanish Bay condominium went into escrow, after spending 244 days on the market. This luxurious end-unit, overlooks the 12th hole of the Spanish Bay Golf Links. At time of sale this home was listed for 3.35 million, and is scheduled to close March 20th. I guess last year's track record, of Spanish Bay condo's selling in a heartbeat took a temporary pause.
Lastly, 6 luxury homes closed escrow in February. As I noted in last months blog, the home at 3225 Macomber drive that was PS, finally sold for 6.05 million. Gosh it only took 15 years to sell, and was only overpriced by 4.5 million dollars. I won't mention who the listing agent was, but come on, that is a ridiculous sales effort both by agent and seller, too many years of heartache to sell!
Carmel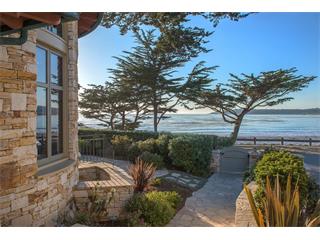 There are currently 127 luxury homes on the market in Carmel which is slightly down from last month. However, of those 127 homes, 25 of those homes are 5+ million and above, which is holding strong from last month. "Salt-Aire", an Eric Miller designed home situated on the coveted Scenic Rd, hit the market for 12.95 million. This property last sold in January of 2016 for 10.9 million, at the time it was only listed for 53 days before going into contract. Quite a quick turnaround for the owners to sell so soon, let's see if history will repeat itself and a buyer comes along soon.
Presently there are 35 homes pending sale including an Oceanfront home in the Yankee Point neighborhood. This property was originally listed for 5.5 million and spent only 9 days on the market before entering contract. Scheduled to close middle of April, I predict it will sell very close to the original asking price.
14 luxury homes sold the month of February in Carmel, which is down by 12 in January. A newly constructed, mid-century modern home, located in the Hatton Fields neighborhood sold in 11 days. This single-level, 3 bedrooms, 3.5-bathroom residence showcases Pt. Lobos and Carmel Mission views with high-end amenities. Listed for 3.89 million and sold for 3.85 million.
Continue to check in weekly for the latest up-to-date luxury real estate information or for helpful tips by your favorite Real Estate Guru, moi! Any questions or concerns regarding buying or selling luxury properties please be sure to contact me, Nicole Truszkowski at 831-238-7449!