From the desk of Nicole Truszkowski, here is your yearly review of the luxury real estate market for Carmel and Pebble Beach for 2016.
Happy New Year! I hope everyone enjoyed a fantastic holiday season with family and friends. It's good to be back to the grind of work, and just like our own individual reflections of our past year, it is good to summarize what happened with our 2016 luxury markets, and predict where they might be headed for 2017. This was a year of surprises. Like it or not, we have new leadership in this country, and so far it appears to have had a positive impact on America's economic outlook.
2016 was a year of low inventory. The sales total for homes north of $1M was slightly lower than 2015. The low inventory increased buyer demand, which resulted in the average sales price of single-family homes going up: Carmel by 8% and Pebble Beach by 18%. We are starting 2017 with slightly greater inventory than 2016. Off market sales (not listed in MLS,) were significantly higher in Carmel verses Pebble Beach for 2016.
As I glance into my crystal ball and predict trends for 2017, here are some insights: Interest rates will increase by about ¼ percent and hover around 5%. Our real estate markets will be in a phase of "rebalancing" during 2017, which means we will see a slower market (a more normalized market.) Entry-level home buyers will still face fierce competition, whereas luxury homebuyers will play the game with sellers. If luxury sellers are unrealistic with their sale price, buyers will be very hesitant, and not in the mood to pull the trigger. Let's take a closer look at our individual community results for 2016.
Pebble Beach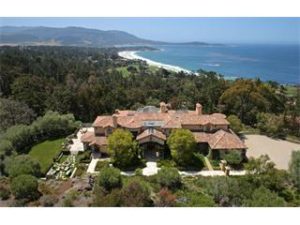 A total of 96 luxury homes, selling for more than $1M sold in Pebble Beach during 2016, which was down from the 99 sold in 2015. Total off-market sales greater than $2M was 6, approximately 12% of all $2+ million sales. The average days on market for 2016 was 115, while in 2015 it was 109. The most significant off-market sale in Pebble Beach was 3158 17 Mile drive, which sold for $28 million, while the record MLS sale was 3177 Del Ciervo. Originally listed for $22 million, this home sold 67 days later for $18.7 million. Both of these record sale estates were sold by Sotheby's!
Currently there are 61 homes active on the market, which is up from 51 in January of 2016. A mega listing in Pebble Beach will be hitting the MLS shortly it is currently an off-market listing with our office. Offered at $49.8 million, "Peerless in Pebble" is one of only 31 rare waterfront lots. Situated on a private 2- acre lot showcasing 13,000+ square feet of living space, including a guest house. This astounding estate redefines location, location, location in Pebble Beach. It is sure to set sales records for 2017. At this time there are 7 homes pending which is up by 1 from January in 2016.
To view all available Pebble Beach Real Estate for Sale click here. To see a 60-day Market Snapshot, click on the link.
Carmel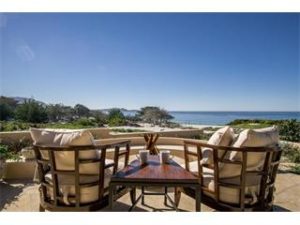 We saw 228 luxury Carmel homes sell in 2016, which is down from 238 in 2015. Off-market sales above $2M for 2016 totaled 20, approximately 23% of all $2+ million sales. The showcase record sale on San Antonio in Carmel was an off-market listing that sold for $24 million. The record MLS sale was 7 Sand & Sea, a unique property that perched on the sands of Carmel Beach. This 2,665 sq.ft. home on a 9,778 sq.ft. lot, originally listed for $13.95 million, and sold 67 days later for $10.7 million. Both on- and off-market sales were sold by Sotheby's.
Currently there are 118 Carmel homes active on the market, slightly more than the 111 active in January, 2016. A noteworthy listing is "Misty," a unique property on Spindrift in the Carmel Highlands. Misty was featured in the final scene of the movie "Play Misty for Me" starring Carmel's favorite son, Clint Eastwood. Offered by Sotheby's at $11.9M, this home showcases dramatic oceanfront vistas. Currently there are 29 homes pending sale, which is up from 21 in January of 2016.
To search the latest available Carmel homes for sale be sure to click on the link. For a 60-day market snapshot click here.
Quick Recap:
Trump fans are optimistic that the economy will see dramatic growth. Our country definitely needs a facelift, and hopefully with a huge influx of infra-structure development funds, this will happen. Deregulation and tax changes are bound to have an impact, but time will tell! Inflation is bound to occur with growth, and we will see interest rates slowly climb. Super high-end sales will slow, except for the lucky sellers with one-of-a-kind properties. Correct seller pricing and superb marketing strategy by the listing agent will be imperative for a successful sale in 2017. Buyers will need reassurance that they are making a good decision before signing on the dotted line. I predict 2017 will be a good real estate market for buyers and sellers who are realistic, and who base their decisions on current trends and factual analysis.
Continue to check in weekly for the latest up-to-date luxury real estate information, and for helpful tips by your favorite Real Estate Guru, moi! If you have any questions or concerns regarding buying or selling luxury properties, please be sure to contact me, Nicole Truszkowski at 831-238-7449!