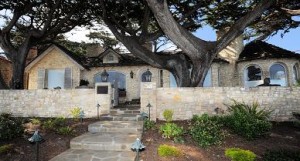 Modest improvement projects can elevate the appearance of Carmel CA homes from neat and tidy to charming and memorable, making prospective buyers to foresee enjoying themselves at your property. It is not surprising that in this market, little outdoor improvements can add significant value to your home.
You may have already done some basic grooming for Carmel CA homes like replacing aging foundation plantings, tidily trimming your hedge rows, and kept your lawn lush and green. So if your windows are already sparkling, your exterior siding is mold free, then you might be ready to do the next step in outdoor home improvement.
Here are some do-it-yourself home improvement projects that can provide excellent return with minimal time and money investment.
Lessen harsh structures such as fences or support columns with fast-growing vines. But make sure that your structure can support woody perennials like trumpet vine or wisteria.
Create a walkway to the front door, a side entrance or the backyard of Carmel CA homes. Dry beds without mortar are the simplest material to use. Brick or slate go together with many homes but think of using pea gravel and pre-made stepping stones for a simple, country look. If your path is lengthy, it might be better to seek professional help.
Treat old or unpainted cement stairs, patios or foundations with a color to complement with siding and structure to convey a consistent, clean appearance.
Edge garden beds by using decorative edging or pavers, but it might be easier and would require less maintenance to use a spade to make a sharp, clean perimeter trench to prevent grass creep between pavers and into the garden.
Make use of strategic solar lighting in the front yard. There are many available options to choose from. While also an added safety bonus, illuminating a focal point like the front door, specimen trees or walkway attracts the attentions of passers-by.
Put a bench inside or near your garden, maybe even a bistro set if your surface is flat. Even if your garden is small creating a focal point helps visitors to imagine hanging around in your yard.
Consider heightening your home's appeal with these or other small improvements to improve your home's salability but most importantly for your own enjoyment.