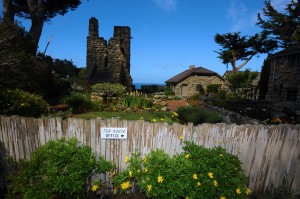 The U.S real estate market has a good supply of conventionally beautiful McMansions, cozy Pebble Beach homes, and some unremarkable Colonials up for grabs. If you are out to find the quirky, odd, strange…  if you want to set your eyes on homes that can be described with the former adjectives, be more vigilant and you might not just set sight on them – you might find yourself living in them.
One of the weirdest is the dwelling retrofitted from the Cold War ruins of an Atlas Missile site. It is situated in the forested mountains of Adirondack State Park in New York.
The storage-tower abode fetches for $2.3 million. On the façade it may seem like an undistinguished 2,000 square-foot mountain habitat – besides for the hidden airplane runway. Down the kitchen's spiral staircase, however, and you'll see two levels of nuclear mayhem- resistant living area packed within three –foot, chunky concrete ramparts armored with steel mesh.
Click Here to View All Pebble Beach homes for sale!
For a different kind of offbeat, you may want to spend on the Montezuma Canyon's Cave Palace Ranch that sneaks out of the base of a grand Utah mountain. The mountain's natural red rock cave was turned into a three-bedroom property that will keep you warm in the cold months and keep you from hyperventilating in the hot months. It runs on solar power and propane.
Ultra-luxury estates come in forms not generally anticipated. Setting your eyes on the meticulously manicured lawn of a Holmby Hills property that fetches for $28.5 million, you wouldn't suppose a nightclub below the landscaping. The extensive concrete-enforced nightspot features the latest sound and illuminating systems, a stage, and a hidden entry disconnected from the mansion's.
If you are eager to consider purchasing an odd home, you must know that they can be hard to sell (people who have quirky taste and are willing to spend on it are harder to find). Most of the properties on the "odd" list have been sitting on the market for years, and they often catch buyers after the sellers (having no choice) insistently cut their original asking prices.
Getting one of these homes sold relies on two significant factors: price point and whether what makes it "extreme" induces a strong positive or negative response from the average person who is looking to purchase a home in that price range.