The Top 2017 Luxury Real Estate Trend is to Live in a Walkable Community. Carmel-by-the-Sea has been named a "Bentley" Luxury Community!
Shhh the secret is out! Here are a few reasons we local Carmelites love living in our charming town: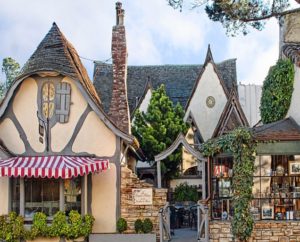 Whimsical Fairytale Cottages. Unique architecture and quaint charming abodes will capture your heart and imagination. It's no wonder Carmel-by-the-Sea is one of the most romantic towns in the U.S.A.
The Beach. If you love the mighty ocean, you'll relish all the recreational opportunities afforded to you as a resident.
Dog Town USA. Carmel has as many dogs per capita, as Fur-Baby owners. Dogs rule our town. Fur-baby owners can indulge in shopping, dining, and lodging with their four-legged friends. Dogs own Carmel Beach — they frolic leash-free with their buddies.
Peaceful Lifestyle. Carmelites enjoy a comfortable pace of life without the hustle and bustle of city living. Downsized living is a way of life – it's cool to be understated.
Nature Lover? Look out your window, or walk out your front door and you will experience some of the most beautiful vistas this world offers.
Eclectic Mix of People. A unique mix of interesting folks, living in a non-pretentious environment. If you live in Carmel by the Sea, you have arrived!
Top Schools. Children are blessed with the opportunity to attend some of the country's top private and public schools.
Gourmet Dining, Incredible Art, & Plentiful Shopping. Live large in our small town with many of the opportunities big-city living offers.
No Cars Needed. Are you a walk, run, or bike person? Enjoying the outdoors without a car is a way of life in Carmel.
Desire the Good Old Days? Powerful sense of community where socializing is the norm. Meander down to the local Post Office to catch up on the town gossip, or chat with your neighbor as the dogs romp on the beach.
Safety is a Priority? Enjoy a good laugh when you read the local Carmel Pine Cone Newspaper's "Police, Fire, and Sheriff's log." "Dog found running free on Santa Lucia, fur baby owner located and family re-united." Jay Leno can't make this stuff up!
65 Degree Temps Excite You. Mild year-round temps — it's never too hot or cold to enjoy outdoor living.
Landscape Maintenance is a Breeze. The use of drought tolerant native plants, and tiny lots offer easy care. Hate grass? No worries; you'll search high and low to find some in this town.
Vacation Lifestyle 360 Days a Year. Don't like to travel? You may never want to leave town, as it is hard to match the Carmel lifestyle and tranquility it offers.
International Culture. An influx of tourists provides the opportunity to meet people from all over the world. Stop by a local café and you will be afforded fantastic conversation in several foreign languages.
World Class Events. Car, music, theatre, food & wine aficionado? Carmel and it's surroundings offer many spectacular annual events to satisfy everyone's passions.
Local & International Airports. Private jet owner, or first-class flyer? All your aviation needs can be met. International airports are nearby, while the local airport is a hop, skip and jump away.
Wow you say! That all sounds amazing, but what are some cons to consider, if I decide to pack up and move to Carmel by the Sea?
Claustrophobic? Prefer mansion living and room to roam? Carmel-by-the-Sea may not be the place for you. The typical house is 3 bedrooms, 2 baths, (1600 Sq.ft.) situated on a 4000 Sq.ft. lot.
Car Collector or Pack Rat? Two-car garages are almost non-existent in our town. Head down to the aviation center to rent a hanger for your car collection.
Nightlife Owl? Downtown vendors roll up the red carpet around 10:00 PM. Millennials might find the nightlife a snoozer.
Recluse? Here in town we live close and share our town with tourists. Prefer privacy? You'd best check out Big Sur, Carmel Valley, or Pebble Beach, which might fit the bill.
Four Seasons Enthusiast? 65 degree average year-round temperatures limit seasonal variety. June gloom with seasonal fog might make you run to Carmel Valley for a day of sunshine.
Expensive Abode = High Tax. Looking for a bargain buy? You won't find it here. Real estate prices are equivalent to some of the most expensive cities in the world.
Visitors in the past may have mentioned that the population in Carmel is "nearly dead or newlywed." The tides are changing, we are seeing a younger influx, however we still do have plenty of Q-tips (white hair folks) who rule the town. Younger more affluent families desire Carmel by the Sea for our schools, safety, quality of life, and small town atmosphere. Q-tips love our town for the peaceful ambiance and the fact it is a great place to be retired. Personally, I love the town for all the 17 reasons noted above, my favorite's being the quaint character, dog friendly atmoshpere, and the beach! If you have fallen in-love with our town and desire to become a Carmelite, call moi "Nicole Truszkowski" your Carmel by the Sea real estate expert. I have the inside scoop.
Stay tuned for our next blog series as we explore the pros and cons of living as a local in other towns along the Monterey Peninsula.