Here on the Monterey Peninsula we take water conservation very seriously, as we have a limited supply. We take it so seriously that we have a governing authority, the Monterey Peninsula Water Management District (MPWMD), who's sole job is to protect our water supply in Monterey County. Cities which fall under these water rules and regulations are: Carmel-by-the-Sea, Del Rey Oaks, Monterey, Pacific Grove, Seaside, Sand City, Monterey Peninsula Airport District, and portions of unincorporated Monterey County including Pebble Beach, Carmel Highlands, and Carmel Valley. As a home owner you must obtain a permit from the MPWMD before water fixtures can be added to any property. When you purchase an already built home, the property comes with a finite number of water credits that are actually recorded with the deed of the property.
Water credits, what's that you say? A "water credit" refers to a fixture value, for example, a washbasin (fixture) equals 1.0 water credits, and a toilet (1.2 gal/flush) equals 1.7 water credits. In addition to water credits, we also have "water use credits" which are time limited, and are documented when water fixtures are removed from residential properties, or when there is a permanent abandonment of use, which occurs when a building is demolished. For more info click here. Why is this important to know? Well, as a homebuyer you're going to want to know what the water credit number is for a potential home you are considering to purchase. The number of water credits available limits what you can do with the property, when it comes to adding a bathroom, sink or anything that uses water. If you're looking at a home that only has 2 bathrooms, and you really want at least 2.5 baths, unfortunately it might not be as easy as just installing a powder room. If there's not enough water credits already recorded for that home, then you're most likely out of luck.
With each home sale, the MPWMD inspects the home and records each water using fixture and its assigned credit amount. As a buyer, you will get a copy of this during the escrow period as part of your due diligence. Here's an example of the inspection report: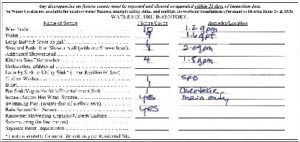 (for a complete list of fixtures and their values, click here). You might look at the report and think, well what about that fancy shower system I want to add to my master bath, which requires an extra fixture, do I have to give up on that dream? Don't fret quite yet because the good news is that you can "move" these credits around in your home by changing their uses. For example, maybe there is a bidet currently in your master bath, and you're not too keen on bidets, well the value for a bidet is 2 credits, and an additional shower head fixture is 1.5 credits. It's possible to switch out the bidet for that fancy shower system you've been coveting. Another option would be to switch out existing fixtures for newer, higher efficient ones, which have lesser values. This change would free up some credits for you to use at your discretion. Check out the MPWMD water calculations form.
If neither of these options work for you then you could be out of luck, and stuck with the one shower head, or say good bye to that extra half bath. If the thought of this is causing you some stress don't get discouraged, there are a few additional options you might be lucky enough to take advantage of:
If you're looking at a property in Pebble Beach and there just isn't enough water credits there for you to construct that fabulous remodel you want to do, you can actually purchase water credits directly from the Pebble Beach Company.
If your building or remodeling in Pacific Grove you can buy water credits from the City of Pacific Grove. Water credits will be available of a first come first serve bases. You need to get on the list and have an installed water meter on site.
Lastly and this option doesn't really work for everyone. A while back the MPWMD acknowledged that in today's world it is reasonable for any house to have at least 2 bathrooms. Thus Ordinance 98 was born, which will allow you to add a second bath to a one bath home even if that one bath home is deficient in water credits. Of course there are some restrictions; yes, you get that second bath for free, but that doesn't mean you can also then add a half bath as well, also the one bath home can't be new, it has to have been an existing dwelling, as in, you can't build a one bath home today and then add a second one in a couple of years. For more info click on the link above.
Unfortunately at this time, you're not allowed to buy or transfer water credits anywhere else on the peninsula. What I've detailed above is the extent of how to maneuver around the complicated water credit system. If you have any further questions or need more clarification, please don't hesitate to contact me, 831-238-7449 or nicoletr@me.com. And please don't let this deter you from buying on our beautiful peninsula, instead be sure to work with an experienced local realtor who knows the intricate details of this complex process and can guide you along the way.