From the desk of Nicole Truszkowski, your Weekly Luxury Market Report for Carmel and Pebble Beach Real Estate for the week of April 21st, 2016.
Activity continues to blossom in our luxury real estate markets in Carmel and Pebble Beach. We have some mega luxury homes pending sale, which is sure to set some seasonal record sales! Carmel is averaging 41% of inventory in escrow, while Pebble Beach is running at 32%. National and international luxury markets are showing signs of slipping in price, and number of sales, from first quarter reports in cities like New York and London. I predict our markets will remain robust through our selling season, and we will see decrease of sales number, and volume in the last quarter of 2016. See details below for the latest real estate news.
Pebble Beach Real Estate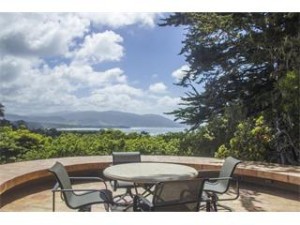 Pebble Beach exhibited the same trend as last week with only 3 new listings hitting the market. A lovely modern mid-century abode entered the market at 14.998 million, situated on 17-mile drive, it boasts big ocean and golf course views, with over 9000 Sq.Ft of living space. Last sold in 2010 for 6.5 million, over the years this home has undergone renovations, the justification for the big list price could be the famous architect "Germano Milono" who designed the home in 1959; or the recent sales history along 17-mile drive. Contemporary design elements seem to be the hot ticket item for luxury buyers, time will only tell for this home.
Four homes went pending this past week, including two homes on Cormorant in the Country Club West neighborhood. A 4.8 million property featuring panoramic ocean and golf views, spent 152 days on the market. A home that was listed for 1.795 million on Cormorant went PS in 1 day. Lastly, 3 homes sold this past week, a residence in the Country Club West neighborhood that was listed for 2.15 million, and sold for 2.05 million 32 days later.
Click on the link to search the most up-to-date information on available Pebble Beach homes for sale.
Carmel Real Estate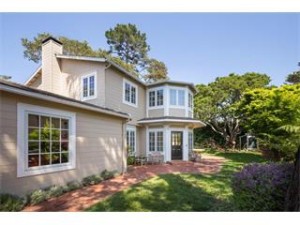 Carmel real estate took the lead this week with 7 new listings entering the selling arena. A spectacular home on Yankee Point with nice ocean views graced the market at 2.425 million. This home showcases a super lay out, and is a nice size for primary living, with almost 3000 Sq.Ft of living space. Listed in 2014 at 2. 295 million the owners were not successful in capturing a buyer, hopefully this go around the sellers will find the perfect buyers. Personally I love the home, I think it will go into escrow quickly this time around.
Eight homes went pending with ALL of them spending less than 45 days on the market. A home on Mission and 7th listed for 4.795 million, it spent 19 days on the market ,and is scheduled to close end of May. The reality is that this home was actually on the market for 16 months, the listing agent took it off for a short time, and then placed it back on the market, they were successful in snagging a buyer this go around. It appears the price adjustment hit the market sweet spot.
A property on Pescadero that was listed for 1.16 million, only spent 3 days on the market before some lucky buyer snatched it up. Finally, eight homes closed escrow. A beautiful property in Quail Meadows originally listed for 5.975 million, and at time of sale was listed for 5.295 million, closed escrow after 208 days on the market, and sold for 4.757 million. We also saw a charming Carmel-by-the-Sea home on Mission, literally right in the heart of downtown, spent 10 days on the market, was listed for 1.1 million and sold for 90K less at 1.010 million.
Click here to search the latest available Carmel homes for sale.
That's all for this week! Stay tuned till next week, until then here's what's going on around town this weekend.
4/22 – 4/24 – Big Sur International Marathon 
4/22 – 4/24 – Monterey Symphony April Concert in Salinas and Carmel