From the desk of Nicole Truszkowski, your Weekly Luxury Market Report for Carmel and Pebble Beach Real Estate for the week of March 24th, 2016.
This past week listings continue to hit the market in anticipation of the world-class food and wine event to begin next week in Pebble Beach. Last week we had a brief pause in the number of properties that went pending and closed, however, this is a short-term breather. My prediction for real estate sales in April will be busy and hectic, our local markets will continue to see much more activity then the Bay Area markets.
Pebble Beach Real Estate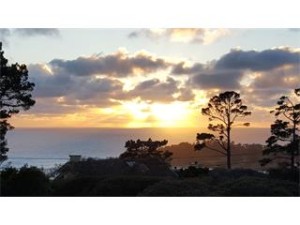 Six new listings hit the market this past week, including an Ocean View abode on Sonada road situated on 1.3 acres, which is being offered for 3.895 million. This listing is essentially being marketed as a lot; there is a home situated on the property but it has not seen much improvement since it was last sold in 1983. The sellers are banking on the convenient location, privacy, and stunning views of this lot to capture the eye of any potential buyers who desire to build their dream home. Nada homes went pending this past week in Pebble Beach, while 2 homes closed escrow. The estate I spoke about earlier this year on Padre finally sold after 48 days on the market, listed at 4.35 million and closing escrow for 4.25 million. The other home to close escrow was a turn key property in the Country Club east neighborhood that spent 9 days on the market, was listed for 1.295 million and sold for 1.35 million.
Click on the link to search the most up-to-date information on available Pebble Beach homes for sale.
Carmel Real Estate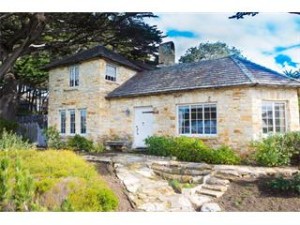 The Carmel luxury real estate market continues to be a very HOT market with no signs of slowing down, many folks are flocking from the Bay Area to get away from the crowds and congestion! Fourteen homes entered the market this past week. Much to the relief of many, the classic stone home on the corner of Scenic and Stewart in Carmel Point, which has been in a state of dis-repair forever, is finally on the market. So many of us local Carmelites wondered when someone would fix this magnificent property and bring it back to its grandeur.  Now some lucky buyer is going to have the opportunity after 50 years to own this home. Offered at 8.875 million, here is a rare and unique opportunity to rebuild your own dream home on coveted Scenic road with the mighty blue Pacific ocean as your backdrop!
Four homes went pending this past week including my new listing; a beautifully remolded townhome in the Carmel Valley Ranch community, listed just a week ago for 1.495 million it is scheduled to close in May. The sellers received multiple offers within days of the listing going live; needless to say condo living in Carmel Valley is highly desirable for second homebuyers. We also saw a beautifully designed home on Ocean View that was listed for 3.995 million go pending in 14 days; scheduled to close in April. Lastly, we saw only one home close escrow; a brand new, contemporary home in the Carmel Meadows neighborhood that features extensive Ocean views, listed for 2.699 million and sold 13 days later for 2.72 million.
Click here to search the latest available Carmel homes for sale.
That's all for this week! Just a heads up, Pebble Beach Food & Wine come to town next week, click on the link for more information.
Stay tuned for next week's blog, until then, here's what's going on around the Monterey Peninsula this weekend:
Friday, 3/25 – Smuin Ballet's Dance Series One at the Sunset Center
Saturday, 3/26 – Pacific Grove Golf Links 2nd Annual Easter Egg Hunt
Saturday, 3/26 – Science Saturday: Bees, Wasps, Honey & Hives at the Pacific Grove Musuem of Natural History