From the desk of Nicole Truszkowski, your Weekly Luxury Market Report for Carmel and Pebble Beach Real Estate for the week of July 23rd, 2015.
Carmel and Pebble Beach real estate markets continue to flourish with a hub of activity. You can definitely feel the buzz of excitement within the real estate community as we approach the Pebble Beach Concours D'Elegance. A dazzling luxurious ocean front Pebble Beach estate went live on the market this week, boasting a mere price tag of 35 million! See below for all the juicy details.
Pebble Beach Real Estate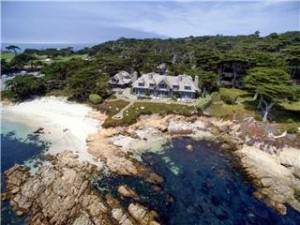 5 luxury listings hit the market in Pebble Beach this past week. As noted above, 3158 17 Mile drive hit the market with a substantial list price of 35 million. Hum what do you get for 35 BIG ONES: one of only 31 oceanfront properties that grace the 17 Mile drive, your own amazing private beach, and incredible architecture. This French Normandy estate sits on 2.35 acres and is nestled nicely between the Lone Cypress tree and the exclusive Cypress Point Golf Club. The last recorded sale for this home was in 1992 at 3.5 million. The sellers picked a great time to enter into the market, with a little less than 2 weeks to go until the big car show, I'm sure they will see a flurry of activity as the luxury buying tourists start to arrive.
There was 1 luxury Pebble Beach home that went pending last week and 2 homes closed escrow. Both homes that sold were within the 1 – 1.1 million range and spent less than 30 days on market.
Click on the link to search the most up-to-date information on available Pebble Beach homes for sale.
Carmel Real Estate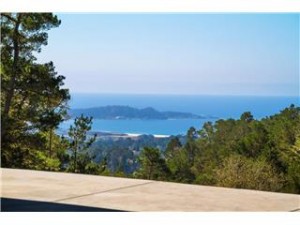 The Carmel luxury real estate market featured 11 new listings this past week. One of note is a newly constructed home located on Loma Alta in the Jack's Peak neighborhood. While the exterior home is complete, the interior is currently under construction and is advertised as being completed soon. The main house is 6600 sqft with a 1000 sqft caretakers unit and sits on 7 acres with views of Carmel Bay and Point Lobos. This could be a great opportunity for potential buyers who want to bypass the permit/construction phase but are interested in a blank canvas to put their personal stamp on. This home is currently listed for 6.25 million.
4 Carmel homes went pending this past week and saw 7 luxury home sales. A home on San Antonio with Ocean views sold for about 22.5% less than it's original list price of 4.195 million. This home shot onto the market in January 2015 and 6 months later sold for 3.25 million, almost a million less than the ask price. Normally you see a house that is overpriced sit on the market for awhile, perhaps the sellers came to the hard realization that "no matter the location, if it's priced too high your house wont sell" a lot quicker than other sellers and settled at a more realistic price point.
Click here to search the latest available Carmel homes for sale.
Quick Recap:
Activity on all fronts is picking up on the Monterey Peninsula, which only means good things for the Luxury Real Estate market. A lot of business' in Carmel are trying to cash in on the car show frenzy, according to the Carmel Chamber of Commerce weekly update there will be a pop up café, Concours Café, on August 13th during the Tour d'Elegance, located on San Carlos between Ocean & 6th. This pop-up will be serving local brews from Alvarado Brewing Co and Peter B's, as well as eats from Carmel Bakery. If you'll be down on Ocean Ave checking out the cars you should definitely make a point to stop by.
That's all for this week, stay tuned for next weeks update, until then, here's what's going on around town this weekend:
1. 7/23 – 8/1 – Carmel Bach Festival 
2. 7/23 – 7/26 – Feast of Lanterns, Pacific Grove
3. 7/25 – Lavender Day at Earthbound Farms
4. 7/26 – Moss Landing Antique Fair