From the desk of Nicole Truszkowski, your Weekly Luxury Market Report for Carmel and Pebble Beach Real Estate for the week of August 21st, 2015.
What a wild and crazy week!!!! With so much going on around the Peninsula for car week, I barely had a chance to sit down! Between working at the RM Sotheby's Auction (see results here), to showing numerous clients properties, and putting one of my Pebble Beach listings into escrow that I haven't had a moment to enjoy the absolute beautiful weather we've been having, or to fully partake in the events of this special week. The big winner in the luxury car arena was a 1924 Isotta Fraschini Tipo 8A F. Ramseier and Cie Worblaufern Cabriolet winning Best In Show at the 2015 Pebble Beach Concours d'Elegance, Sunday, August 16th.
In the luxury estate arena Carmel came in first, Pebble Beach is in the mist of brewing some big sales. Look for future posts sharing significant sales over the next 6-8 weeks.
Pebble Beach Real Estate                        
Pebble Beach came to a standstill with no new luxury listings this past week. No need for alarm most sellers who wanted to sell had their property listed prior to the start of car week. 4 luxury homes went pending sale including my new listing on Sunset lane that has only been on the market for a few weeks. This fantastic listing was listed for $1,875,739 and featured ocean views, beautiful gardens, and 4-car garage parking, it is scheduled to close October 2nd. Another sale I'd like to mention is the property I featured in last week's blog, the new construction opportunity on Sonado that comes with 50+ non-deed restricted water credits and approved building plans for 2.6 million. Looks like one lucky luxury buyer saw a great opportunity there and jumped on it so they could build their dream house. This lot is scheduled to close September 10th. Lastly, there were no closed luxury sales this past week. I have to say I'm a little surprised that Pebble Beach was so quiet. I know the luxury buyers were out there as I showed my 10.9 million Ocean View Estate on Bonifacio to some clients from Switzerland, they're interested but no pen to paper quite yet. Perhaps that is what is happening with other high-end listings as well or maybe these buyers were busy bidding on the Pinnacle Portfolio at the RM Sotheby's Auction!
Click on the link to search the most up-to-date information on available Pebble Beach homes for sale.
Carmel Real Estate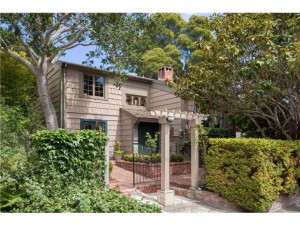 Carmel continues to lead the market and showcased 10 new listings. A Scandinavian inspired designed home on Casanova and 13th, leaped on to the market for the first time in 30 years. Listed at a sweet price of 3 million, this Carmel treasure located in the coveted Golden Rectangle was designed by architect Lennart Palme, who showcases his love of Scandinavian architecture in the design elements. 11 homes went pending, including one home on Lincoln and Santa Lucia that was listed and went into escrow the same day. This home features a double sized lot for Carmel, 8000 sqft and views of the Ocean. It's currently listed at 3.598 million. I'd also like to point out that two homes listed over 5 million and 200+ days on market went into contract over the weekend, which proves that the luxury buyers were definitely in town. Finishing out the week were 5 closed escrows.
Click here to search the latest available Carmel homes for sale.
Quick Recap:
All in all I would say that the luxury real estate market in Pebble Beach and Carmel saw a tremendous amount of action during car week. While Carmel is showing immediate results I think we'll see some high-end luxury sales over the next 6-8 weeks in Pebble Beach from the influx of global buyers in town.
Stay tuned for next weeks blog, until then here's what's going on around town:
1. Aug 21st – 23rd – Sand City West End Celebration
2. Aug 22nd – Organic Herb & Flower Harvest Walk at Earthbound Farm
3. Aug 22nd – Party in the Village Concert, Barn Dance & Fundraiser in Carmel Valley
4. Aug 23rd – 28th  Annual Jewish Food Festival