From the desk of Nicole Truszkowski, your Weekly Luxury Market Report for Carmel and Pebble Beach Real Estate for the week of February 19th, 2016.
Hopefully everyone had a chance to partake in some of the exciting events around the Peninsula this past weekend, thanks to the Pro-Am annual AT&T golf event. It was a perfect Chamber of Commerce week with stunning weather, famous movie stars, packed venues and busy restaurants. The vibe around town was high energy, and everyone who didn't live on the peninsula dreamed about home ownership! Shortly following the magical golf event a crazy rainstorms hit our town. Even though the Peninsula was all a buzz with activity and tourists, we typically do not see the results of the luxury sales till several weeks following a major event. New luxury real estate inventory hitting the market this week was slower than usual, no big surprise, considering smart sellers listed their home prior to AT& T golf week.
Pebble Beach Real Estate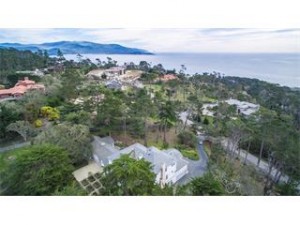 Six new luxury listings hit the market last week In Pebble Beach, including a stunning ocean view estate on Padre Ln that also enjoys panoramic views of the iconic Cypress Hills golf course. Classical design elements with understated elegance, this home is sure to impress. This home tested the market in late 2014 with an original price tag of 5.275 million. The property was taken off the market at the first of the year, and is now back on the MLS with a list price of 4.375 million. Finding the sweet spot for a list price can be a challenge in a second home market, hopefully the price is right this time around! Five homes went pending, including an extensively remodeled home located on the old 17 mile drive in the Country Club West neighborhood. This home had spent 254 days on the market, and has fallen out of escrow twice already. Originally priced at 3.995 million and now listed for 2.995 million, this home is scheduled to close escrow at the end of March. Three times is a charm, I am sure toes and fingers are crossed tightly by the sellers and listing agent of this home! Quite a rarity, no homes closed escrow in Pebble Beach last week.
Click on the link to search the most up-to-date information on available Pebble Beach homes for sale.
Carmel Real Estate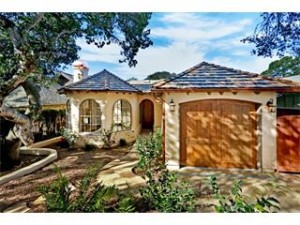 The luxury Carmel Real Estate market only saw 3 new listings this past week; however, a brand new home located on Dolores & 8th, hit the market with a list price of 2.695 million. Brand new construction is a rarity in Carmel, and this home is fab with all the design elements second home buyers dream about, I am sure it will sell fast! Three homes went pending this past week, including that stunning home on Ocean View just across the street from the mighty Pacific Ocean, with views from Point Lobos to the Pebble Beach Golf links. This home was originally listed for 15 million, at time of ratification was listed for 12.75 million; it is scheduled to close escrow March 7th. Another property that went pending was a charming home on Alta Ave in the Northwest Carmel neighborhood; hit the market at a list price of 1.195 million and 3 days later went pending. Perhaps a golf enthusiast buyer who was in town for the Pro-Am snatched it up; it is scheduled to close April 1st. Lastly 4 homes closed escrow this past week; the Carmel beachfront property on Scenic with it's own private entrance to the beach. This property was originally listed for 12.95 million, was reduced to 9.2 million, and finally sold for 8.95 million. This home was well maintained, however, was extremely dated. Value was pure location and lot size. I look forward to seeing the new transformation the owners will create in this iconic Carmel-by-the-Sea beachfront location.
Click here to search the latest available Carmel homes for sale.
That's all for this week! As I mentioned above be sure to check in in the next few weeks to see if any big sales happen!! Stay tuned for next weeks blog, until then here's what's happening around town this weekend:
2/19 – Annual Wine & Chocolate Tasting Benefit at the Monterey Public Library
2/19 – The Alzheimer's Association presents: 'Melodic Memories' sing-a-long at Lincoln & 8th, Carmel.
2/19 – 2/21 – Monterey Symphony Concert III at Sherwoood Hall and Sunset Center