From the desk of Nicole Truszkowski, you're Weekly Luxury Market Report for Carmel and Pebble Beach Real Estate for the week of June 10th, 2015.
As I write this, the weather outside is cloudy with spurts of sun, yet a humid 68 degrees. What a welcome relief from our "June Gloom". With the temperature rising not only on the coast but inland as well, it's only a matter of time before tourists escape the inland heat to seek the refuge of our cooler coastal city. What does this have to do with Real Estate you ask? More tourists = more buyer traffic. See below for the details.
Pebble Beach Real Estate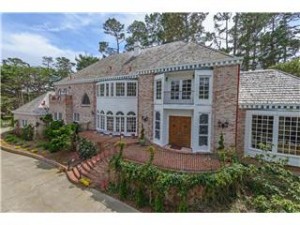 The Pebble Beach luxury real estate market boasted 4 new listings this week, including a Georgian Mansion located on Portola. Sotheby's is taking the lead as the new listing agent, formerly listed by another agency the change of dynamics and new list price of $4,199,000 should spark interest. The last recorded sale for this home in 1993 was for 1.43 million. Classic brick exterior and European design elements showcase a traditional home with stunning grounds, perfect for the luxury consumer looking for a very large estate. Click on the photo for more information on this property. Stay tuned for next week's update where I will announce my new listing in Pebble Beach, located on Sunset Ln, one of the best luxury homes buys to come on the market.
There were 5 new escrows in Pebble Beach this week. Right now Spanish Bay condos are trending as the hot ticket luxury real estate item in the Pebble Beach forest. Considering the average price for these Spanish Bay condos is close to 4 million, it is a little surprising to see one sold, pending and active all within the last 7 days.
Click on the link to search the most up-to-date information on available Pebble Beach homes for sale.
Carmel Real Estate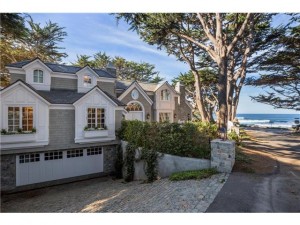 The Carmel luxury real estate market continues to incinerate with activity, 13 new listings hit the market this past week, including a RARE once in a lifetime estate located on Ocean View. In my opinion this is the most spectacular property that I have ever seen on the market in Carmel, the quality of building materials, design elements, layout, and view offer everything the most discriminating buyer desires. Showcasing amazing views of Carmel Bay, Point Lobos to the Lodge at Pebble Beach, situated on a huge corner lot, boasting 6 bedrooms, 5.5 baths, garden nursery, and fitness room. Offered at 15 million this abode is a bargain, considering the dirt sold for almost 7 million, and with actual construction cost averaging a 1000 per Sq.ft for this quality. It doesn't take long for one to crunch the numbers and say darn it's a super buy at almost 7000 Sq.ft, and being turnkey ready to move in. For more information on this home click the photo to the left.
Strange the number 13 is considered by many as an unlucky number, not in Carmel, 13 homes went into escrow and 13 new listings graced the market this past week in Carmel. We saw 9 homes close escrow this week in Carmel. Carmel Valley Ranch condos are the trending buyers choice with 2 closing escrow and 1 going PS this past week. Buyers looking to purchase under the 1 million dollar price range are struggling to find homes. Multiple offers are common and all cash buyers continue to win the bidding wars. As the summer continues to sizzle I see no slowing down in our hot fiery real estate market. Your best bet for success is to select a realtor to represent you who has their pulse on the market I am always here to help.
Click here to search the latest available Carmel homes for sale.
Quick Recap:
Luxury real estate is in high demand in Pebble Beach and Carmel, and I see no signs of the market slowing down through the summer. Cash is KING, multiple offers are common, and buyers are in sticker shock, based on what a few million dollars buys you in our neck of the woods. Buyers are trending heavy from the Silicon Valley region, they all want to escape the rat race and breath some fresh air.
That's all for this week, stay tuned for next week's luxury report, until then here's what's happening around town:
1. 6/12 – 6/13 – "It's a Wild Life" screening at the Henry Miller Library in Big Sur
2. 6/12 – 6/13 – Capa Showcase Presented by Dance Kids of Monterey County at the Sunset Center in Carmel
3. 6/13 – Monterey Beer Festival at the Monterey County Fairgrounds in Monterey
4. 6/13 – 6/14 – 16th Annual Summer Wildflower Show at the Garland Ranch Visitors Center