From the desk of Nicole Truszkowski, you're Weekly Luxury Market Report for Carmel and Pebble Beach Real Estate for the week of July 8th, 2015.
I hope everyone had a great July 4th celebration with family and friends. It is amazing to think we are already halfway through the year and it's time to produce the luxury sales statistics for the first 180 days of 2015. My goal is to look at statistics creatively, not just report on sales, but find out where our buyers are coming from. Considering we live in a destination market where many folks are buying their vacation, second or third home, it is important to know where the buyers are coming from. Many agents think they know where our buyers are coming from but they don't track it, like I do. I can tell you where the buyers came from, for every single home that sells on the Monterey Peninsula when the sales price was 2 million dollars or higher.
As anticipated, trends are similar after analyzing the data for the first half of the year, we're seeing about 30% of buyers coming from the Bay Area, which I've found to be pretty constant over the last 3 years. Another strong representation of buyers is local folks who are moving up or down, they represent 30% of the luxury market, which is a higher percentage than past years. Interestingly enough, Texans have not been a big player this year, nor have buyers from the Central Valley, both of which had a strong presence in 2013 & 2014.
Note I produce these reports quarterly; October 2015 will be the next update. For detailed information on these informative statistics please don't hesitate to call me. I willingly share this information in person with my clients and past clients. Back to the present, this past week showed strong activity in Carmel and Pebble Beach luxury real estate sales. The big holiday weekend didn't seem to slow down our active real estate markets. See below for more details.
Pebble Beach Real Estate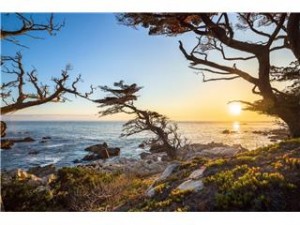 6 luxury listings hit the market in Pebble Beach this past week. Most notable is a classic, vintage Pebble Beach estate on the famed 17-mile drive. You'll notice I said vintage… that's because this home was last sold in 1979 and let me tell you, it looks like it. This old school, waterfront home sits on prime real estate with vast views of the Pacific Ocean, however the amount of dough needed to remodel it and make it resemble something from the 21st century is not for the faint of heart! A hefty list price of 14.5 million might be hard for many folks to swallow who are not used to paying our outrageous California real estate prices. That being said, owning a home like this is a once in a lifetime opportunity!
There were 3 luxury homes that went pending sale in Pebble Beach this week, including a home on 17-Mile drive that sat on the market for 661 days. It was originally listed for 13 million and at the time it went into contract, showcased a price tag of 9.75 million, this home is scheduled to close 9/21/15. It will be interesting to see what the final sales price is. 2 luxury homes closed escrow this week in Pebble Beach.
Click on the link to search the most up-to-date information on available Pebble Beach homes for sale.
Carmel Real Estate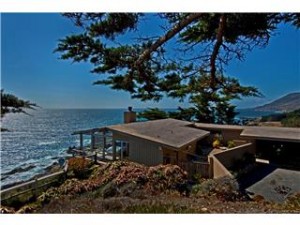 The Carmel luxury real estate market continues to crackle with 10 new listings this past week. Hitting the market this past week is an oceanfront home located 10 miles down the coast from Carmel. This home is situated on a large, almost 3 acres lot of coveted Pacific Ocean coastline and boasts a 5.395 million list price. This home last sold in 2005 for 3.2 million and as of February 2009, has been on and off the market since then with an original listed price of 6.995 million. Living down the coast offers a unique living experience and appeals to specific buyers, note this home is a fixer upper, it offers expansive views and a flat lot.  The new owner will need to spend another 2 million to update the home. I think the sellers are dreaming if they think someone will pay 5.3 million for a major fixer upper. Real value for this home is closer to 3.7 million.
9 Carmel homes went pending this past week and 4 homes sold, including a home on Monte Verde that was listed and sold in the same day for 1.295 million. Another example of the winning formula: location & price.
Click here to search the latest available Carmel homes for sale.
Quick Recap:
We're continuing to see the same levels of activity in both Pebble Beach and Carmel real estate and I'm sure it will remain this way for the weeks to come. Stay tuned for next weeks update, until then here's what's happening around town:
1. 7/10 -7/12 –  58th Annual St Mary's Antiques & Collectibles show in Pacific Grove
2. 7/10 – Carmel Plaza Summer Live Music Series
3. 7/12 – Sunday Blues in the Park, Laguna Grande Park