From the desk of Nicole Truszkowski, your Weekly Luxury Market Report for Carmel and Pebble Beach Real Estate for the week of April 10th, 2016.
It's officially April with spring showers and flowers, the first quarter of this year seemed to blow by fast, where does the time go? The first quarter of this year we have seen the luxury real estate markets in Carmel and Pebble Beach remain very stable with some interesting trends. Pebble Beach showcased a record off market sale of 28 Million this week, more inside scoop to follow later in this post. Let's review the first quarter sales statistics and then we will share all the juicy real estate gossip for the week.
Pebble Beach's 2016 first quarter sales had a total of 23 sold over 1 million dollars, whereas in 2015 Pebble Beach first quarter saw 20 luxury home sales. We have seen a slight jump in total homes sold first quarter of the year over prior years. Interesting enough our average days on the market increased towards the end of the first quarter to 81. Active inventory levels moved from 49-65 during the first quarter and ended with 59 homes on the market. Time to sell first quarter jumped around from 5.4 to 13 months, ending with a 5.4 monthly supply of inventory. Click here for details.
Carmel' s first quarter sales for 2016 had a total of 51 over 1 million dollars, whereas in 2015 Carmel's first quarter sales were 55. We see a slight decrease in 2016 sales in Carmel compared to first quarter 2015. Average days on market varied from 62-100 days ending the ¼ with 62 DOM averages.
Carmel's average sold price shows a slight, yet steady increase from each previous month. During the first ¼ inventory levels increased each month and actual sales decreased. Inventory levels continue to remain low, which benefit sellers. National & global trends are indicating a market correction is happening in some areas, London luxury condo market is starting to see price adjustment. Click here for details in London. Link below
Click here for Carmel 1st ¼ stats.
Finally, here's what happened this past week in the luxury real estate market for Pebble Beach and Carmel.
Pebble Beach Real Estate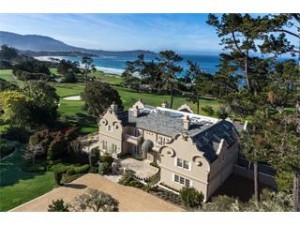 Pebble Beach saw two new homes hit the market this past week, one of note; a beautiful 22 million dollar estate that sits on the 12th green of the Pebble Beach golf links. Situated on 2.4 acres, with dramatic golf course and ocean views, showcasing 8300 square feet and 7 bedrooms. This home was on the market 6 years ago for 24 million. The recent record sale in Pebble Beach this week should make these homeowners giddy.
Three homes went pending; including a custom home located on the 16th fairway of the MPCC shore course, listed for 3.99 million, spent 132 days on the market, and is scheduled to close early May. The community is a buzz with the exciting news that Peter Read sold his home on 17-mile drive for $28 million dollars this week. Originally listed for 35 Million in July of 2015, it was removed from the MLS at the end of 2015. This off market sale qualifies as one of the record sales for Monterey County, great news for property owners who are lucky enough to own one of the ONLY 31 oceanfront properties in Pebble Beach. Three other homes sold this past week in Pebble Beach, including a Spanish Bay condo listed for 3.7 million, spent 17 days on the market, and sold for 3.65 million. Sales records are being set in Pebble Beach; now your up to date with the latest PB gossip!
Click on the link to search the most up-to-date information on available Pebble Beach homes for sale.
Carmel Real Estate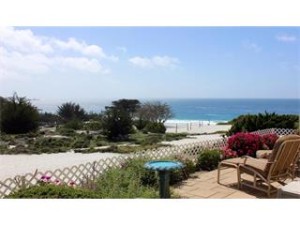 Carmel Real estate boasts 9 new listings this past week. One of notable mention is the 9.2 million dollar listing called "Briga-dune" or "the Yellow House." Situated on .20 acres and only 1533 square feet it's being offered at a mind blowing 6001 dollars per square foot, and guess what, it needs a complete remodel! Yikes, add in remodeling costs, and this might break a world record for most expensive home per square foot. Note the actual physical address is 5 Sand & Sea, located literally on the beautiful white sands of Carmel Beach. It's been 45 years since this property last graced the market; here is a once in a lifetime remodel opportunity, in one of the world's most coveted locations. Proof of desirability and value is the fact that 7 Sand & Sea situated next door went pending sale after only 65 days on the market. A local homebuilder recently remodeled from top to bottom, every inch of this 2665 square foot contemporary designed property. It hit the market with a list price of 13.5 million, that's a whopping 5254 dollars per square foot. I predict the final sales price of 7 Sand and See to be near 10 million dollars, or 3752 per square foot! Wow the Yellow House owners are maybe out of their mind at that list price, hum this will be an interesting listing to follow!
In addition to 7 Sand & Sea, 6 other luxury homes went pending this past week, and lastly 3 properties closed escrow. A home located on Mesa in the Hatton Fields neighborhood, listed for 1.325 million, spent 16 days on the market and sold for 1.225 million.
Click here to search the latest available Carmel homes for sale.
That's all for this week!